EVLution Nutrition began in 2013, backed by retired BMX athlete Mike Spinner, with a focus on developing nutrition products for action athletes. While competitors in the "extreme sports" category had conventionally been overlooked by sports nutrition brands, Spinner credited supplements with helping him overcome a knee injury in 2009 to win a championship in 2010 before retiring from pro BMX competition.
Since 2013, EVL has established its presence in the market as a brand built around quality and reliability. Their products run the gamut of sports nutrition, from pre-workouts and post-workouts to testosterone boosters, fat burners, protein powders, and various targeted supplements.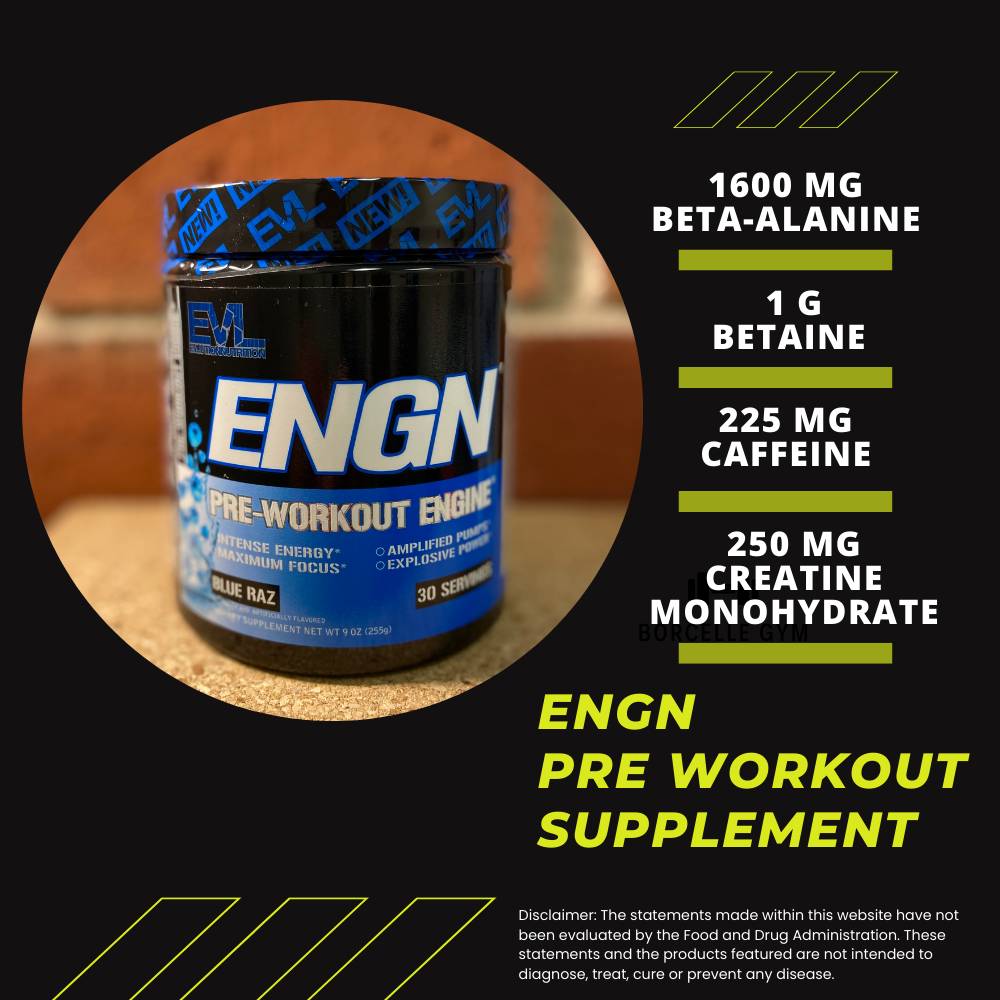 Initial Impressions
ENGN doesn't go over the top with their package design. Their signature neon blue and black gives their products some recognizability, but it looks like most other pre-workout supplements – slick, professional, not particularly stylish.
Opened up, our first batch had big chunks that were clearly not intentional. We wrote the company, and they replaced it with expedited shipping. Say what you will of the product, but their customer service is on point.
Mixed up, ENGN has an extremely bright, slightly neon blue color. If you have fond childhood memories of Kool-Aid, ENGN might bring you back to backyard cookouts and pool parties. If you get weirded out by unnatural colors, move on.
Energy Ingredients in ENGN Preworkout Drink
Caffeine anhydrous 225mg
VitaShure caffeine 125mg
ENGN promises Intense Energy on their packaging, and there's enough caffeine content to back it up. Consider that the FDA recommends no more than 400mg of caffeine a day; ENGN is well on the way with 225mg of caffeine anhydrous. On its own, that's enough to get a real hard workout going, but ENGN boosts the energy with 125mg of VitaShure caffeine
VitaShure is a slow-release form of caffeine that actually delivers 60% active caffeine over a more sustained period. That means, even though your caffeine boost might run out, the slower-rolling VitaShure caffeine will keep you energized through a long, hard workout.
Nootropic (Focus and Mood) Ingredients in ENGN Preworkout
L-Tyrosine 250 mg
L-Theonine 50mg
Choline 200mg
Choline Bitartrate 500mg
On the packaging, ENGN also claims the offer Maximum Focus. Well, with four nootropic ingredients, it's going the distance to deliver. ENGN is one of the most nootropic-rich pre-workouts we've seen. L-Tyrosine, L-Theonine, Choline, and Choline Bitartrate (which has a better absorption rate than choline alone) are all known for their effects on mental clarity and mood.
However, even with three ingredients, ENGN's nootropics are all a little underdosed – a lot underdosed, in the case of tyrosine, which should really be over a gram to really be effective. That's a definite demerit when you're claiming maximum focus.
Anti-Fatigue Ingredients in ENGN Preworkout
There's no point in all that energy and focus if you're going to run out of steam halfway through a high-intensity workout. Endurance and anti-fatigue ingredients are a basic part of any good pre-workout formula, and ENGN includes 1600mg of beta-alanine for exactly that.
In high doses, beta-alanine causes one of the most disconcerting side effects of pre-workout supplements – the "tingle." With just 1600mg, though, ENGN should effect only the most sensitive users. Be aware, though, that if you don't want to feel your skin crawl, don't overdo your dose.
Pump and Blood Flow Ingredients in ENGN Preworkout Supplement
On the package, ENGN claims to provide Amplified Pumps. We're not quite sure exactly how they manage that, though – there are no dedicated blood flow enhancing ingredients, except perhaps agmatine sulfate. However, agmatine (a derivative of L-Arginine) is primarily useful for pain reduction and recovery, not pump.
Strength Support & Body Composition Ingredients in ENGN Preworkout
Betaine anhydrous 1000 mg
Creatine Monohydrate 2000 mg
Agmatine sulfate 250 mg
They may skimp on the pump, but ENGN knows their clientele wants strength support. That's why they include a hefty 2000mg dose of creatine monohydrate, 1000mg of betaine anhydrous, and 250mg of agmatine sulfate.
We all know creatine – it's the most popular muscle-building supplement you'll find in pre-workout and other sports nutrition formulas. 200mg is pretty close to the optimal dose, though many athletes use more.
1000mg of betaine is a little low, but betaine's influence on improving body composition and fat burning should still be solid at that dosage. As mentioned before, agmatine sulfate may have some positive effects on pain relief, so hard-worked muscles can recover well.
Electrolyte Ingredients in ENGN Preworkout
ENGN also does not offer any electrolyte ingredients. That, again, is not a deal-breaker if you're getting your hydration support from elsewhere, but if you're looking for an all-in-one pre-workout supplement, ENGN might not be the one for you.
The Extra Mile?
The following added ingredients will help you further with gains:
Niacin 35mg
Vitamin B6 2mg
Folic Acid 800mcg
Vitamin B12 25mcg
Like a few other pre-workout formulas we've tested, ENGN has the foresight to include some basic, essential vitamins in their mix. It's not that established gym-lovers won't have their own preferred vitamin source, or that your diet isn't enough for most vitamins. It's just a good sign to us that they're intentional about making a product that meets a lot of exercise needs.
Taste & Flavors of ENGN Preworkout Supplement
EVLution Nutrition's ENGN Pre-Workout comes in 6 flavors, from the obvious Cherry Limeade to the slightly ambiguous Ring Candy. We tried Blue Raz.
How can we express this? Blue Raz will take you back to your childhood. It has a distinct flavor that reminded us of Smurfberry cereal. How you respond may depend on how much you want to go back to 1980s Saturday mornings.
Who ENGN Preworkout is For
ENGN is for the all-around gym-goer who needs a shot of energy to get going.
Who ENGN Preworkout is Not For
ENGN may not meet the needs of serious weight lifters or Crossfitters who want to go at high intensity for a long session.
Potential Side Effects of ENGN Preworkout
No serious side effects we noted
Final Verdict
ENGN is a solid go-to pre-workout product that has a lot of good points going for it. It may be a better choice for the average or moderate athlete than serious competitors.
Related:
The Top 10 Best Pre-Workouts on Amazon
The 20 Best Pre-Workout Supplements With Nootropic Brain Enhancing Ingredients
---
Related Brainz Content: