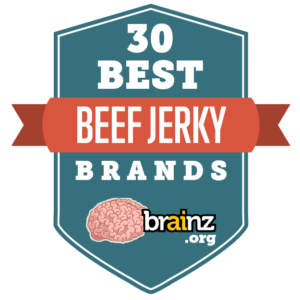 With the popularity of low-fat, high-protein diets of all kinds, beef jerky's profile has been high for a while. For consumers who still associate beef jerky brands with the ground-up chemical dump at the gas station check-out, the modern thing going on in beef jerky will certainly come as a surprise. All-natural, organic ingredients, thin-sliced, whole-muscle meat, and all the flavors the world has to offer – beef jerky has been transformed.
There are a lot of benefits to beef jerky, after all. All-natural beef jerky (and other meats too) is:
High in protein
Low in fat
Good source of iron and other nutrients
Convenient to carry
Easy to store
With increased demand for high-quality products, there are small jerky companies all over the world with their own special recipes, their own distinct brand, and their own missions. And thanks to the wonders of the Internet and modern shipping, you can have just about all of them at your own doorstep in no time.
The best beef jerky brands don't need a brawny muscleman bursting through the wall screaming about wimpy snacks – just real ingredients, careful preparation, and the kind of quality that only comes from a labor of love.
1. Bawnmore Jerky – Ireland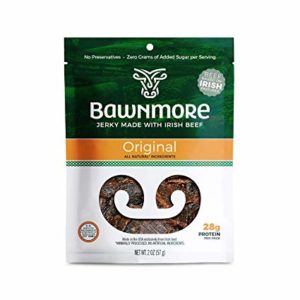 Bawnmore Jerky is one of the top brands of beef jerky currently on the market—especially for consumers looking for all-natural versions. Each product in the Bawnmore line features simple ingredients made from clean recipes. No added sugar or preservatives are found in the jerky. Bawnmore specializes in beef varieties with all sourcing from grass-fed Irish cattle. Bawnmore is sold in three main flavors: Traditional, Biltong, and Cayenne. Traditional is flavored with spices and mustard, Biltong is thinly sliced and air-dried for a rich flavor, and Cayenne has the same cut as Biltong with cayenne pepper added for heat.
Our Favorite Flavor: Biltong
2. Blue Ox Jerky Co. – Winter Garden, FL
Blue Ox is the best beef jerky for those looking to test out new flavors. Flavor options include Traditional, Teriyaki, Spicy, Cracked Pepper, Garlic, and Sweet. Along with beef jerky, any of these flavors can be used in jerky types produced from venison, turkey, elk, and buffalo. Blue Ox has a sampler option for those unsure of what flavor they would like to try out. All flavors of the beef jerky are available for retail in package sizes that range from 4 oz. to 2 lbs.
Our Favorite Flavor: Garlic
3. Bogeys Beef Jerky – Atlanta, GA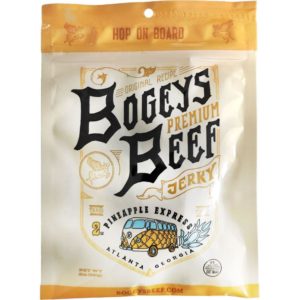 Bogeys Beef Jerky aims to add exciting flavors to traditional jerky recipes. Flavors are a major departure from most beef jerky brands with highlights that include Pineapple Express, Gnarly Gnarly, and Smoky Heat. These varieties appeal to those who like both sweet cuts of jerky and spicier versions. The brand specializes in lean cuts of beef for their recipes with an entire package containing only 110 calories and 3 grams of fat. Except for Pineapple Express, the beef jerky products are also very low in carbohydrates.
Our Favorite Flavor: Pineapple Express
4. Brooklyn Biltong – Brooklyn, NY
Brooklyn Biltong is the perfect choice for those looking to enjoy all-natural cuts of beef without added sugar or preservatives. The company offers Biltong types of jerky, which is considered a South African style of jerky. Biltong is air-dried instead of dried with heat sources. Only 100 percent grass-fed beef is used in the recipe and the product is approved for low-carbohydrate eating plans such as Paleo and Keto. Flavor choices are simple with selections that include Salt and Vinegar, Lemon Pepper, and Steakhouse Style.
Our Favorite Flavor: Salt and Vinegar
5. Chef's Cut Real Jerky – New York, NY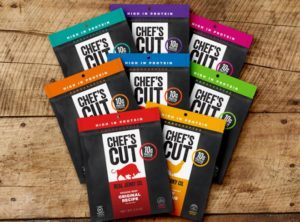 Chef's Cut Real Jerky is so popular that it's one of the few brands of beef jerky that offers subscriptions to customers. Every month, buyers can receive their favorite beef jerky flavors in a subscription box. Meat choices include turkey, beef, chicken, and biltong. Top flavors from the company are Honey Barbecue, Original Recipe, Teriyaki, and Sweet & Spicy. Premium cuts of steak are only selected for each beef jerky recipe. Most 1 oz. servings of each jerky in their product lines contain less than 100 calories and 3 grams of fat.
Our Favorite Flavor: Honey Barbecue
6. Chudabeef – Long Beach, CA
Chudabeef has the best beef jerky due to their method of making each batch. All products are made in small batches to keep flavors fresh and vibrant. Currently, the supplier has four main types of jerky available: Original, OG Spicy, Hawaiian, and Garliyaki The jerky is gluten-free and does not contain any nitrites or artificial ingredients. Top ingredients used to create the recipes include garlic, apple cider vinegar, liquid smoke, soy sauce, and honey powder. All jerky is packed fresh and should be consumed within three days of opening package.
Our Favorite Flavor: Hawaiian
7. Duke's Smoked Meats – Colorado
As a top beef jerky brand, Duke's Smoked Meats rely on 100 percent grass-fed beef for all strips created for their jerky line. They also prefer fresh ingredients and never add dried spices to any of their products. All meats are smoked using distinct methods such as avocado wood chips and bourbon-coated planks. This allows the company to create small batches of jerky with big amounts of flavor. Product options include Honey Bourbon, Sea Salt & Pepper, and Chipotle BBQ. The beef products are available for purchase online or through local retailers.
Our Favorite Flavor: Honey Bourbon
8. El Ranchito – New Mexico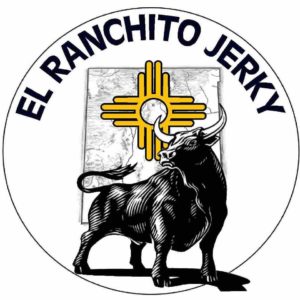 The Southwest is a famed area for creating some of the best beef jerky around. El Ranchito in New Mexico offers 13 jerky flavor types sold in 7 oz. sizes. The company focuses on creating very thin strips of meat with strips measuring about 1/8." Top-selling flavors include Lemon Pepper, Chili Pepper, Habanero, Garlic, and Teriyaki. One of the standout characteristics of El Ranchito beef jerky is that the cuts have a lot of crunch.
Our Favorite Flavor: Lemon Pepper
9. EPIC Provisions – Austin, TX
Looking for brands of beef jerky that appeal to the gourmet? EPIC Provisions is one of the best craft providers of jerky and meat bars. The beef used for the strips are Wayagu that are 100 percent grass-fed and pasture-raised. Cattle are sourced from the United States, New Zealand, and Australia. Wayagu Beef is the top type of jerky sold by the company, but the brand also has strips produced from salmon, turkey, and venison.
Our Favorite Flavor: Pork Carnitas
10. House of Jerky – Indiana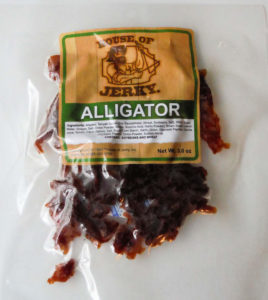 By having the name House of Jerky, consumers are safe to assume that this is one of the top beef jerky brands around. Although beef jerky is a very popular selection among buyers, non-traditional jerky choices are also available including alligator, python, camel, snapping turtle, and shark. For the beef jerky, an original and sugar-free option is available. Whole slices of top round cuts are used with no preservatives added to any of the recipes. All strips are vacuum-sealed to preserve flavors. Beef jerky has a tendency to be high in sodium, but House of Jerky lowers the sodium in their recipes by as much as 25 percent.
Our Favorite Flavor: Chipotle Bourbon Beef
11. Johnny Mac's Beef Jerky – California
The top feature of Johnny Mac's Beef Jerky is that only fresh tri-tip cuts of meat are used in their products. The company never uses any artificial ingredients to create their beef jerky. Best beef jerky flavors from the brand are Smokin' Southwestern and Sizzlin' Southwestern. The former has a bold smoky flavor while the latter is geared to those looking for a little more heat in their jerky. Nutritionally, Johnny Mac's Beef Jerky is low in calories, fat, and carbohydrates and high in protein.
Our Favorite Flavor: Smokin' Southwestern
12. Krave – Austin, TX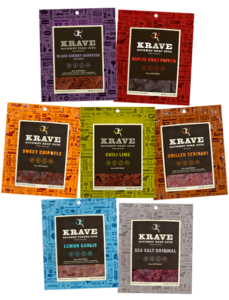 Currently, Krave is one of the top-selling brands of beef jerky. Each serving of the strips contain less than 100 calories and is an exceptional source of protein and iron. All ingredients found in each flavor are gluten-free, even the soy sauce. The company's beef jerky is so popular that they launched a Krave Klub to provide monthly deliveries right to the subscriber's mailbox. Heat levels vary for each flavor ranging from very sweet to very spicy. A few of the most beloved types of beef jerky from Krave are Chili Lime, Cracked Peppercorn, Sea Salt Original, and Sweet Chipotle.
Our Favorite Flavor: Chili Lime
13. Lawless Jerky – Santa Monica CA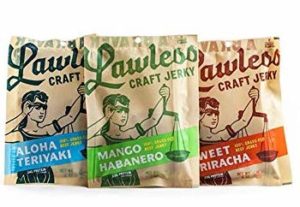 Lawless Jerky is considered a craft brand of beef jerky. All strips are derived from 100 percent grass-fed cattle. The company specializes in creating very flavorful strips that are soft and taste fresh. The brands are made in small batches with top flavors selling out very quickly. Choices available are Aloha Teriyaki, Mango Habanero, and Sweet Sriracha. Lawless Jerky is sold in individual packs or variety sampler flavor packs.
Our Favorite Flavor: Mango Habanero
14. Long Beach Jerky Co. – Long Beach, CA

California is a very popular location for craft beef jerky brands like Long Beach Jerky. The company uses family recipes to create delicious flavorful meat sticks. All beef used in the products comes from a 100 percent approved USDA facility. Besides the original flavor called Gramps, other selections for sale are Spicy Teriyaki, Buffalo Wing, and Cracked Pepper. Jerky is available for online purchase or can be bought from local suppliers across the United States.
Our Favorite Flavor: Gramps
15. Nick's Sticks Beef Jerky – Marshfield, WI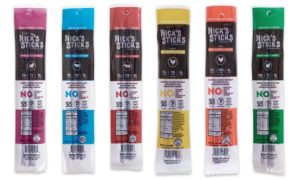 Nick's Sticks appeals to beef jerky fans looking for clean jerky without any preservatives or nitrites. All recipes from the company contain no sugar, no MSG, no gluten, and no artificial colorings. All beef used has not been exposed to hormones or antibiotics. Both sticks and jerky cuts are sold by the brand. The company's best-selling products are the beef types of jerky, but turkey is also available. Traditional or Spicy flavors can be purchased.
Our Favorite Flavor: Prairie Fire
16. Old Trapper Jerky – Oregon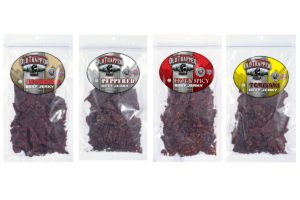 Beef jerky was the initial product launch from the Old Trapper brand. Their jerky is prepared in local smokehouses using flavorful wood chips. All jerky cuts are tender without any of the toughness typically seen in other brands of beef jerky. One of the unique features of Old Trapper is that customers can purchase different shaped jerky cuts such as coins and slabs. Flavor profiles are simple: traditional, spicy, peppered, and teriyaki.
Our Favorite Flavor: Peppered
17. Pemmican – Taylor, MI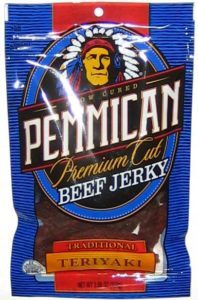 Pemmican jerky is the perfect choice for those looking for a low-fat, high-protein snack. The Native American Metis tribe developed the process used to create the jerky from Pemmican. The process involves using thick cuts of meat that can be chewed on for prolonged periods of time. The jerky is sourced from premium beef with added spices such as chili, teriyaki, garlic, cracked black pepper, and sea salt. Beef jerky is sold in varying quantities with shipping available throughout the United States.
Our Favorite Flavor: Sweet Hot
18. People's Choice Beef Jerky – Los Angeles, CA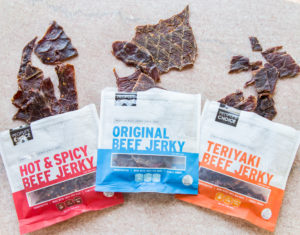 People's Choice looks to bring beef jerky into as many people's households as possible. Fun jerky-themed gifts are available from the brand including jerky grams, jerky boxes, and jerky-scented candles. The jerky is handmade with no processing as a way to best bring out the natural and delicious flavors. The Classic Beef Jerky line has buying options such as Original, Hot & Spicy, and Teriyaki. An artisanal line of jerky is available too with recipes that have been used for more than 90 years to create all-natural jerky.
Our Favorite Flavor: Limon Con Chile
19. Perky Jerky – Greenwood Village, CO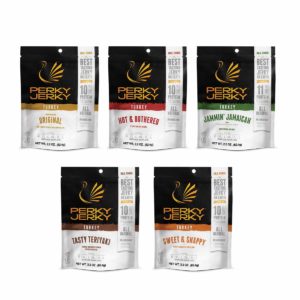 A top feature of Perky Jerky is that the cuts are flavorful and extremely tender. All batches are hand-crafted using 100 percent grass-fed beef. Simple recipes are utilized to create the jerky line with no artificial ingredients. Bestselling flavors from Perky Jerky are More Than Just Original, Sweet & Snappy, and Tasty Teriyaki. The Wayagu Beef Jerky is approved for those following low-carb eating plans like Paleo. Perky Jerky is one of the only brands of beef jerky that has a vegetarian jerky option.
Our Favorite Flavor: Jammin' Jamaican
20. Righteous Felons Jerky – Mid-Atlantic Region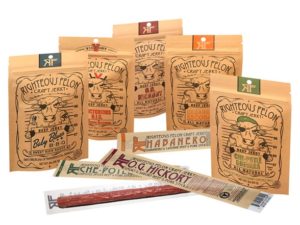 Righteous Felons Jerky Cartel chooses to only use beef sourced from local cattle providers in the Mid-Atlantic Region. The company creates its beef jerky exclusively from Black Angus—one of the best meat choices. The brand image is fun and playful with silly names for each flavor profile. Examples include Truffle-O Soldier, Victorious B.I.G., and Habanero Escobar. The brand tries to create jerky flavors for everyone-including those who are major spice fans. For instance, the Carolina Reaper Beef Jerky contains peppers that are six times spicier than Habanero peppers.
Our Favorite Flavor: Truffle-O Soldier
21. River Watch Beef – Kansas City, KS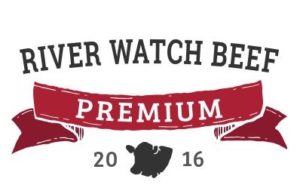 The family-owned River Watch raises its own cattle to make products like beef jerky. The jerky comes from grass-fed beef with no hormone and no antibiotics. Cattle are raised organic and free-range, but the company has yet to complete the certified process. The beef is dry-aged for a total of 21 days and comes in mild, sweet, and teriyaki flavors.
Our Favorite Flavor: Sweet Peppered
22. Savage Jerky – Buford, GA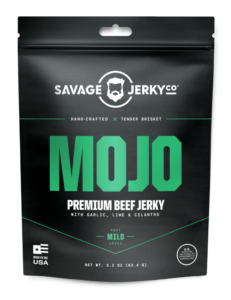 Savage Jerky uses simple recipes to create some of the best beef jerky currently on the market. The craft producer of jerky uses ingredients that are free of nitrites and preservatives. The company's jerky has been positively reviewed by the publications Uncrate, Urban Daddy, and BeSpoke Post. The jerky is hard to find since it has a tendency to sell out online quickly. Classic versions from the brand are Original Recipe, Cracked Pepper, and Teriyaki.
Our Favorite Flavor: Traditional Mojo
23. Side Project Jerky – Philadelphia, PA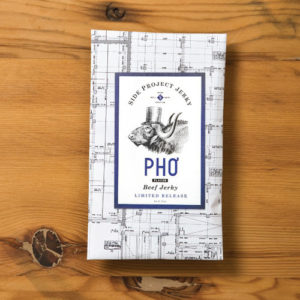 Side Project Jerky has an understated name that doesn't truly represent one of the best beef jerky brands. With positive reviews from Conde Nast and GQ Magazine, it's no surprise that their products are bestsellers. International flavors inspired the collection from Side Project Jerky. Choices from their product catalog include Pho Jerky, Mongolian Jerky, Southwestern Jerky, and Cowboy Jerky. The main ingredient used in all recipes is USDA top choice round beef.
Our Favorite Flavor: Pho Jerky
24. Slant Shack Beef Jerky – Brooklyn, NY
Slant Shack aims to not only create high-quality jerky, but also use ingredients that are earth-friendly. All beef is derived from 100 percent grass-fed and free-range. No supplements, hormones, or antibiotics are given to any of the cattle. Fans of the brand can subscribe to their Jerky of the Month Club. Flavors change often, but example offerings include Spicy Rub, Maple Garlic, and Original. Slant Shack has partnerships with local grocers nationwide to stock their beef jerky products.
Our Favorite Flavor: Maple Garlic
25. Southern Jerky – Nashville, TN
The south takes their jerky very seriously and this is reflected in the offerings from Southern Jerky. The Nashville company specializes in handcrafted jerky recipes created from premium beef. Most varieties are available in both beef and chicken with flavor choices such as Honey Pepper, Nashville Hot, and Original. Southern Jerky is one of the few beef jerky brands that offer a flavor made with pale ale.
Our Favorite Flavor: Nashville Hot
26. The New Primal Beef Jerky – South Carolina
At the New Primal Beef Jerky, all selections are approved for clean-eating diet plans such as Paleo and the Whole 30. Created from 100 percent grass-fed beef, each recipe uses simple ingredients such as cracked pepper, sea salt, cayenne pepper, honey, and jalapeno peppers. Honey & Cayenne is a top seller for the brand—containing a satisfying blend of sweet and spicy flavors.
Our Favorite Flavor: Honey & Cayenne
27. Think Jerky – Chicago, IL
Think Jerky appeals to those looking for high-quality beef jerky brands. A standout feature is that a Michelin-starred chef has created each product's recipe. The gourmet jerky is geared towards foodies that prefer thoughtful food choices. The jerky is from grass-fed and pasture-raised cattle that haven't been exposed to hormones or antibiotics. The non-GMO jerky is gluten-free with chefs offering flavor types such as Classic Flavor, Sweet Chipotle, and Sesame Teriyaki.
Our Favorite Flavor: Sriracha Honey
28. Top Chops Beef Jerky – Lebanon, GA
The beef jerky from Top Chops is not only delicious, but also perfect for those looking to increase protein intakes. Each 1 oz. beef jerky serving contains 8 grams of protein, 60 calories, and 1 gram of fat. The Original Recipe has a nice smoky flavor while sweeter tasting jerky can be found in the Teriyaki version. Spicy options include the Red Chili Pepper Jerky and Sweet & Spicy.
Our Favorite Flavor: Red Chili Pepper
29. Two Brothers Jerky – North Carolina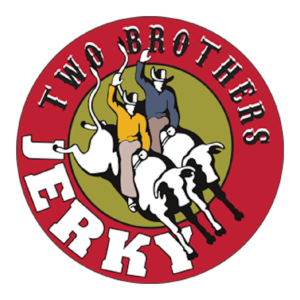 Two Brothers Jerky believes in flavor profiles that are both simple and delicious. They offer a limited number of flavors as a way to focus on producing high-quality jerky made from 100 percent grass-fed beef. Famously Hot gets its heat from the addition of crushed red pepper while Sweet Ginger Teriyaki includes pineapple and brown sugar in the recipe. For a classic jerky flavor, Bull City Original is available.
Our Favorite Flavor: Bull City Original
30. Two Chicks Jerky – Petaluma, CA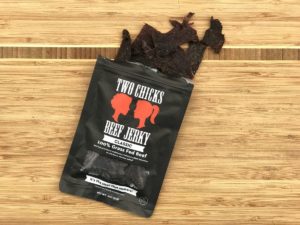 Two Chicks Jerky should also be considered as a top choice when comparing brands of beef jerky. The company started as an underground movement and was able to launch with the help of Kickstarter. Each bag of Two Chicks Jerky is produced from high-quality USDA grass-fed beef. Two varieties are currently available for retail: Classic and Habanero.
Our Favorite Flavor: Classic
---
Related:
Hacks to Improve Your Life as An Adult
---
Related Brainz Content: