Founded by fitness marketer Ryan Hughes, Ghost has been making a name in the supplement business since 2016. Ghost has made sure that their name is synonymous with transparency and honesty. The Ghost tweaked their original Legend Pre-Workout formula in 2021 with a focus on power and mental clarity.
Ghost puts a premium on the athletic lifestyle, and markets themselves not as a supplement company but as a lifestyle brand. Ghost Legend is vegan, soy-free, gluten-free, and sugar-free.
Initial Impressions With Ghost Pre Workout
There's one thing you can say right off the bat – Ghost Legend stands out on the shelf. Other pre-workout supplements go out of their way to look superficially alpha-male dominant, and end up coming across as way too try-hard. You've seen them.
Ghost doesn't do that. The copy on the package reads "Be Seen," and they practice it, with bright colors, wild patterns, and a little ghost logo that is just this side of cute without being cutesy.
Ghost Legend comes in a very fine powder that mixes up so quickly and thoroughly that you barely have to shake it. The smell immediately lets you know you're in for a treat, and unlike most other pre-workouts, you actually are.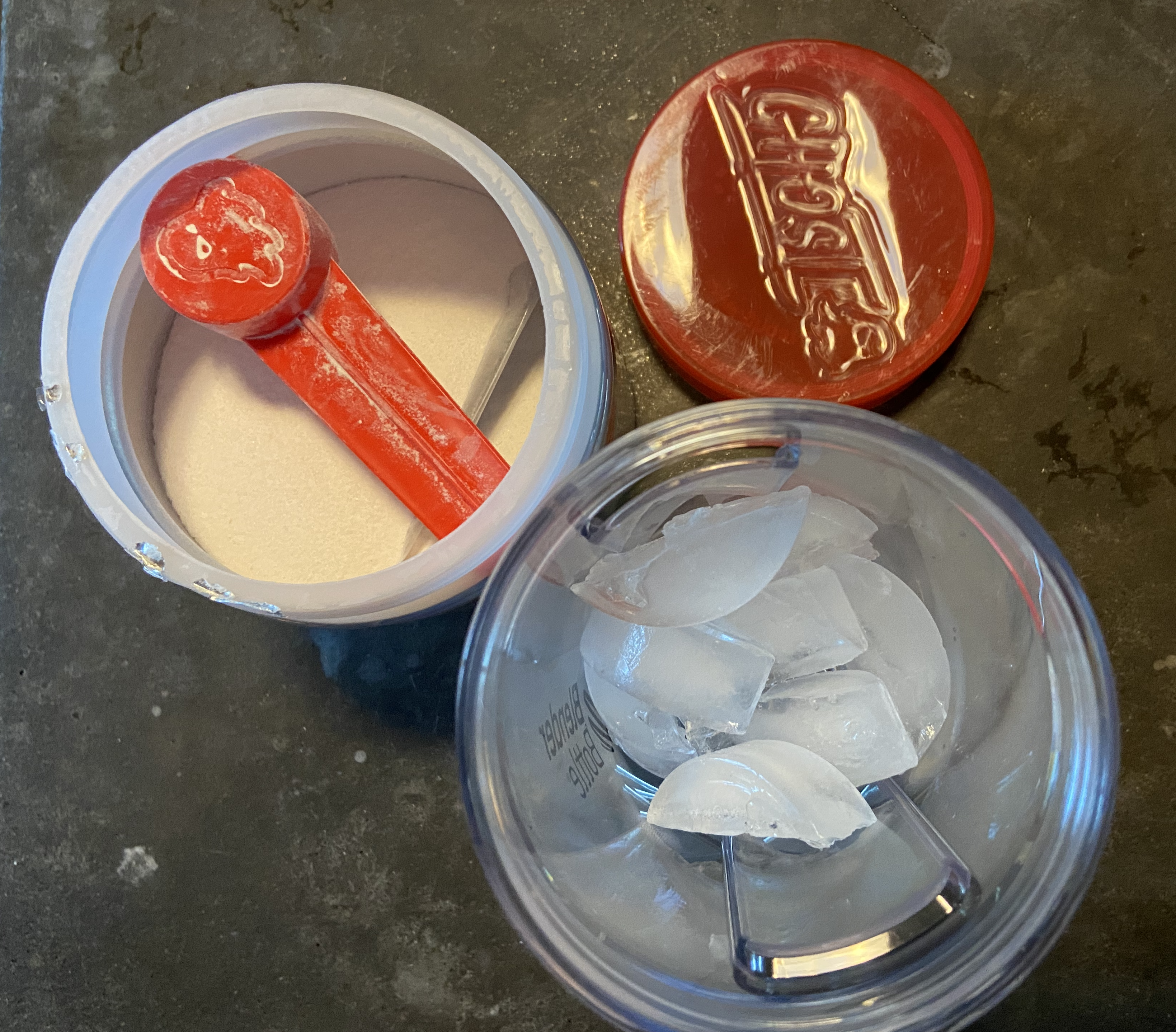 Energy Ingredients in Ghost Pre Workout
Where most pre-workout supplements pile on the caffeine to give users a fast, short-lived boost that might not even get them through a hard workout, Ghost Legend is designed a little more thoughtfully. The 250 mg of caffeine in Ghost Legend provides energy when timed right for your workout, and it's still a strong dose. But 250 mg on its own might not get you through a really long, endurance-based workout. That's why Ghost Legend also adds on a load of nootropics as well as anti-fatigue and blood flow ingredients for longer-term support.
Nootropic (Focus and Mood) Ingredients in Ghost Pre Workout
Alpha-GPC 300 mg
L-Tyrosine 1000 mg
Theobromine 100 mg
Focus and mood have a massive impact on getting a good workout, and Ghost Legend is taking nootropics really seriously. Ghost puts three proven nootropic ingredients in Legen Pre-Workout: Alpha-GPC, L-Tyrosine, and Theobromine. Alpha-GPC is one of the most exciting nootropic ingredients, with excellent effects on focus and mental clarity.
L-Tyrosine helps greatly with memory, thinking, and mental alertness.
Theobromine is a cacao extract that impacts mental clarity, especially in coordination with caffeine. It's a minor stimulant, and may help with blood pressure in addition to alterness.
All three are optimally dosed in Ghost Legend.
Anti-Fatigue Ingredients in Ghost Pre Workout
Ghost Legend gives users a big old dose of Beta-Alanine – well over optimal dose, and enough to include a warning on the packaging for users who aren't used to the notorious tingling effect. Users frequently turn to beta-alanine for its endurance and anti-fatigue qualities. It's worth keeping in mind, however, that beta-alanine has primarily shown effectiveness over short, intensive workouts, rather than long endurance-based workouts.
Pump and Blood Flow Ingredients in Ghost Legend
L-Citrulline 4000 mg
Nitrosigine ® 1500 mg
Ghost Legend takes pump and blood flow very seriously, with two ingredients specifically focused on moving that blood: L-Citrulline and Nitrosignine. L-Citrulline is one of the most common pre-workout supplements, due to its well-known power in opening up the arteries and increasing blood flow. Nitrosignine is a patented formula of arginine silicate that has been shown in studies to have significant vasodilation abilities.
For those who care, Ghost Legend uses vegan fermented L-Citrulline in their formula. It's about half the optimum dose, but taken together with Nitrosignine,, they're great at getting the oxygen flowing and giving users that sense of volume.
Strength Support & Body Composition Ingredients in Ghost Pre Workout
Ghost Legend seems primed for energy, blood flow, and nootropics, but doesn't have any conventional strength support and body composition ingredients like creatine or betaine. However, they do include 50 mg of AstraGin, a popular, patented ginseng extract that is thought to increase absorption rates for other ingredients like amino acides and omega-3s. If you're supplenting creatine or some other strength support from some other source, the addition of AstraGin will be great for helping those supplements do their best work. It's worth noting that 50 mg is the optimum recommended dose.
Electrolyte Ingredients in Ghost Pre Workout
None
Frankly, our only real knock on Ghost Legend is the lack of electrolyte support like sodium or potassium. It's not that it's so difficult to supplement your electrolytes with another product; it's just that a more one-stop situation might be nice.
The Extra Mile?
Extra Pre Workout Ingredients that will help with gains:
Taurine 1000 mg
Senactiv 50 mg
Rauwolfia extract 1.5 mg
Legend's other ingredients demonstrate Ghost's interest in fast, intensive workouts with a great suite of recovery ingredients. You're probably familiar with taurine, of course; it's frequently used for recovery, since it's a known for its anti-inflammatory and rebuilding powers.
Senactiv is a little less known. Based on ginseng and Rosa roxburghii fruit extracts, Senactiv is a patented product that has shown positive anti-inflammatory and cell-replenishing qualities.
Rauwolfia extract comes from a West African shrub and, while it's not been tested heavily, looks like it might have some positive effects for healing and recovery.
Ghost Taste & Flavors
Ghost Legend comes in Peach and Blue Raspberry flavors. We tried to peach, and, low and behold, it's actually quite delicious. Not just good for a pre-workout, but actually pleasant without any harsh chemical or bitter aftertaste. Great job, Ghost!
Who Ghost Legend is For
Ghost Legend is a perfect choice for athletes wanting a hard-hitting, fast-paced workout that gets the job done fast.
Who Ghost Legend is Not For
Ghost Legend isn't for someone who wants all their supplement needs in one package.
Potential Side Effects of Ghost Legend
Typical caffeine and beta-alanine effects – nervousness, tingling
Final Verdict
Ghost Legend is a hell of a product for experienced athletes who want energy, focus, and quick recovery, but the lack of strength support and electrolytes means users might need additional supplementation.
Related:
The Top 10 Best Pre-Workouts on Amazon
The 20 Best Pre-Workout Supplements With Nootropic Brain Enhancing Ingredients
---
Related Brainz Content: