It's part of almost everyone's daily routine, kicking it off with a hot cup of coffee. But, not everyone wants to have to run through a drive through every time the mood strikes, which is why home coffee makers are a kitchen staple. In this list, we're going to present you with the ten best options that are out there right now. To curate the list, we checked through the bestsellers on Amazon, which we have ranked according to price and customer rating.
10.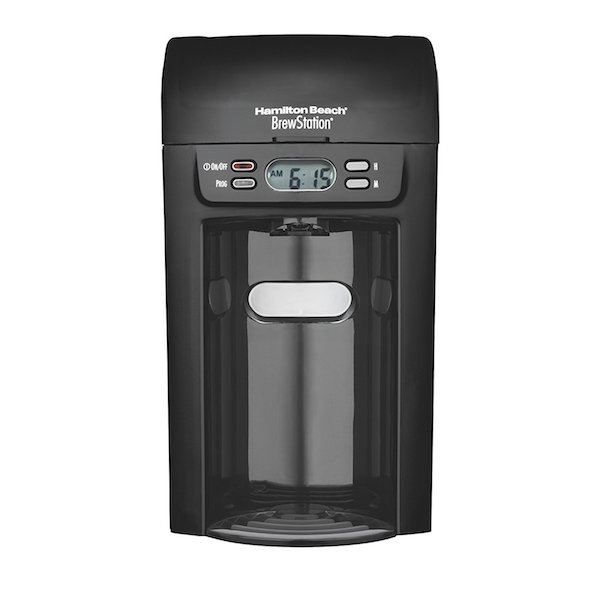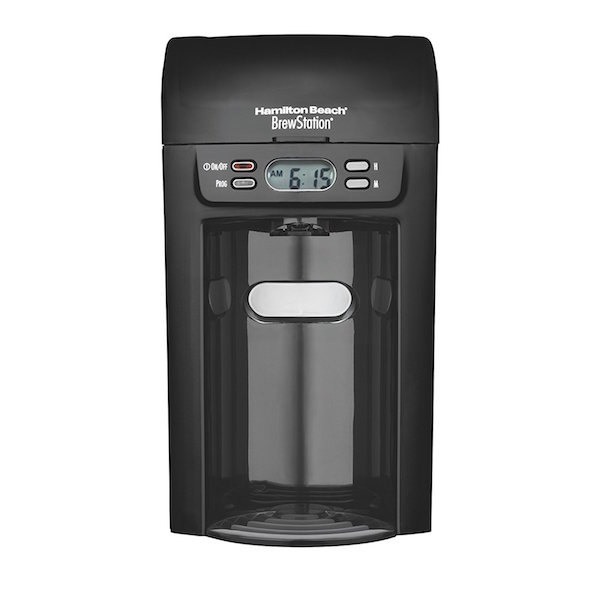 This first coffee maker is smaller than several on the list, but since it makes six cups, it is a cup larger than the standard five. It comes in at just under $25. Hamilton Beach is a long-trusted brand that is offering a unique feature with this appliance, there is no carafe. Instead, the coffee is held in an internal tank which will keep it warm and allows you to dispense one cup at a time. The internal tank also ensures that the coffee will not be exposed to air, so it will keep a fresher taste longer.
9.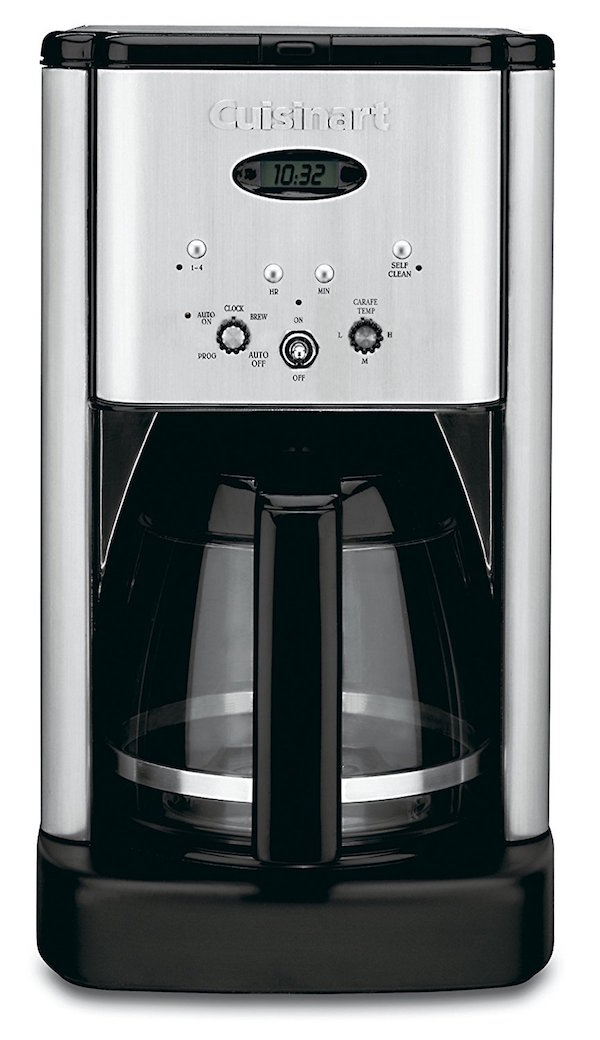 Cuisinart's Programmable Coffeemaker has a 12-cup capacity for those of you who need a venti start to your day. It's about $84 and comes in a sleek brushed metal finish. It can be programmed 24 hours in advance and the ergonomic handle ensures that you can pour your joe without any drips. You can pause the brewing so that you can pour a quick cup before the entire pot is made, and it has a charcoal water filter and permanent gold tone coffee filter so you get a fresh taste every time.
8.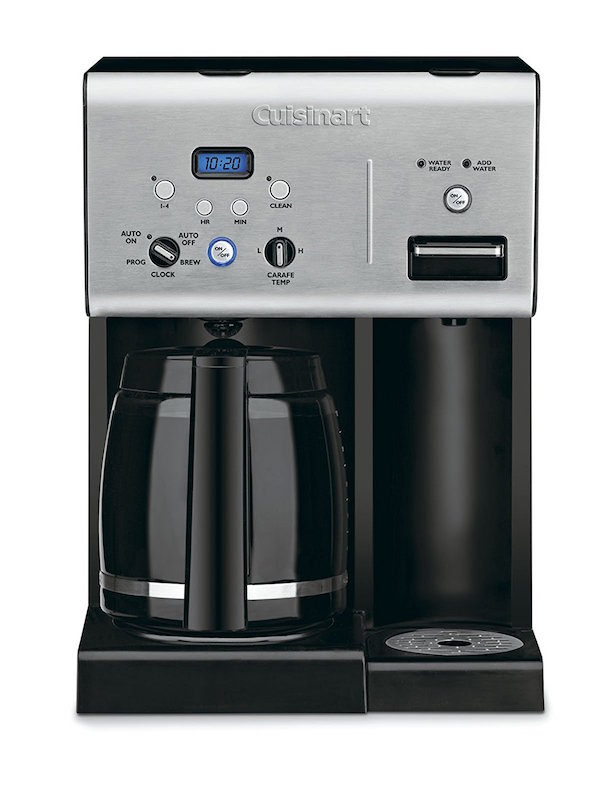 This is very similar to the last coffee machine but has a few more bells and whistles as well as a smaller impact on your wallet at $79.99. This one comes in the same sleek finish and has the option to program it up to a day ahead. It allows you to pause brewing, it cleans itself and can brew 12 cups at a time. The separate hot water function can be used to make hot chocolate, instant soup, and more. It has a separate reservoir and can be used at the same time as the coffee maker itself.
7.
This coffee maker is Cuisinart's answer to the Keurig, but it may have bested the other machine by a good bit. It costs $76.77 and can brew up to twelve cups at a time, which it holds inside until it is time for you to drink it. You can dispense one cup at a time that will just as fresh and hot the first time as it will the last. The reservoir is easily detachable so you can keep it clean without having to go through too much trouble, just toss it in the dishwasher. You can program it a day ahead, and enjoy coffee made with fresh charcoal filtered water.
6.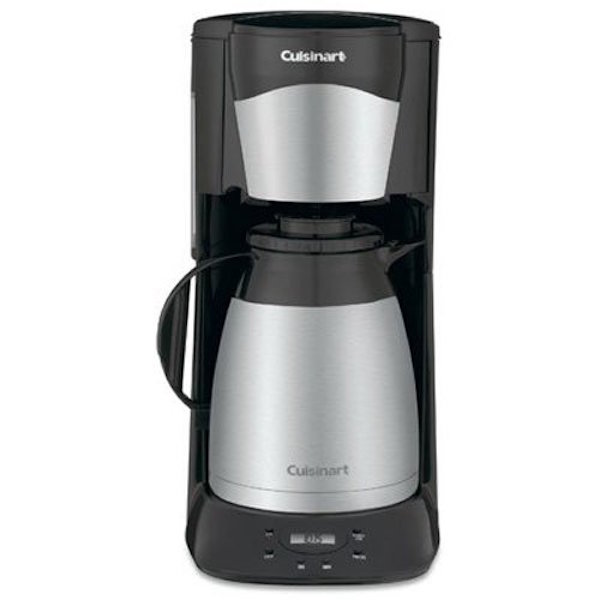 Cuisinart is truly dominating this list due to how functional and gorgeous their products are. This thermal brewer is black with brushed steel accents and will run you $76.44 and ships free. It is fully-automatic, programmable, and has a patented brew-through and pour-through design that ensures fresh and hot coffee for your sipping pleasure. The water window makes it simple to add the precise amount that you need. One warning, make sure to clean the valve regularly to keep your beans tasting perfect.
5.
This Hamilton Beach BrewStation can brew up to 12 cups at a time and has its own internal storage. It functions just like a traditional coffee maker but holds the coffee in an internal tank as opposed to a carafe; this feature keeps coffee hot for up to four hours. This coffee maker is programmable up to four hours in advance and uses a very gentle heater to keep the temperature up so your brew won't scorch. It costs just $49.99.
4.
This Black+Decker coffee maker is traditional with a twist. It has a glass carafe and a classic white design. However, it can brew up to 12 cups at a time. You can program it up to a day in advance, it has an auto shut-off feature for added peace of mind, and allows you to pause brewing if you need to grab a quick cup before its done. Part of what makes this such a great choice is the price tag. This will cost you just $28.84 plus shipping. It has a front-view water window and reusable filter to help make your mornings run smoother as well.
3.
This is a smaller option for those of you who don't need as much of a caffeine fix. It costs less than $20 and has a star rating of 4, with close to 3,000 customer reviews. This is a great staple coffee maker, especially for someone who doesn't drink it too much or perhaps you live alone so 12 cups seems a little bit much. The removable and reusable filter basket is dishwasher safe, and the plate that the carafe sits on keeps everything warm without burning. Another feature that compliments the compact design is a handy cord-storage slot; this cheap reliable appliance is ideal for small spaces.
2.
This four-cup coffee maker is another absolute steal that is perfect for compact kitchens. It costs just $15.74 but don't let the price fool you, because it is packed with features. You can program it several hours in advance and pause brewing to pour a cup, you also have the advantage of hideaway cord storage and a removable filter basket for easy clean-up and tucking it away into a cabinet if you need the space. Mr. Coffee has been doing nothing but coffee makers for nearly 50 years. It's products like this one that helps the company stand the test of time.
1.
The best coffee maker out there is another great appliance from Hamilton Beach. The coffee maker gives you the best of both worlds. You can brew up to 12 cups, or just one single-serve cup if that's all you need. It does take up a little more space but it does pull double duty to make up for it. The single serve is adjustable to fit smaller cups or up to a 14-ounce travel mug; there is also a brew strength function regardless of whether you're bolder or prefer a more tame flavor. This is one of the most versatile coffee makers on the market. It boasts a 4.5-star rating from 1,820 customer reviews. On top of it all, it costs just under $70.
---
Related Brainz Content: