Summer is coming! In some parts of America, it definitely feels like it is already upon us. What better way to cool off than to have a nice smoothie? Better yet, you could check out one of the awesome immersion blenders featured here to help you with making soups and sauces. Whatever the reason that you need a blender, you're bound to find a great one on this list. All of these are Amazon Best-Sellers, ranked by price and customer rating.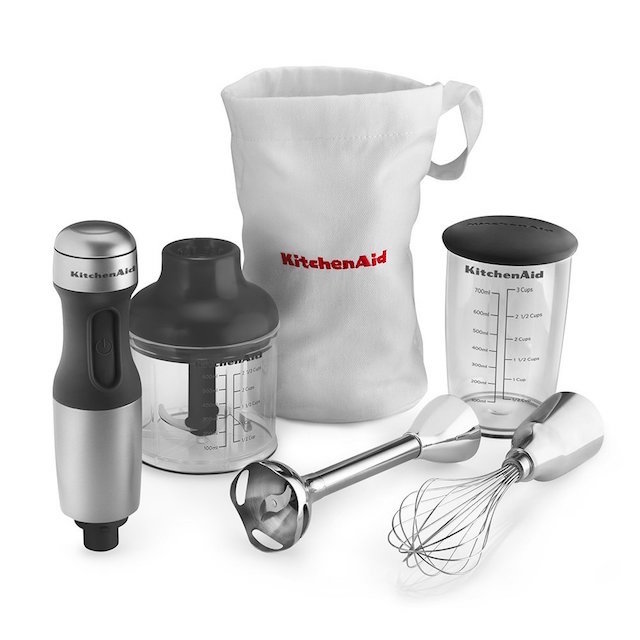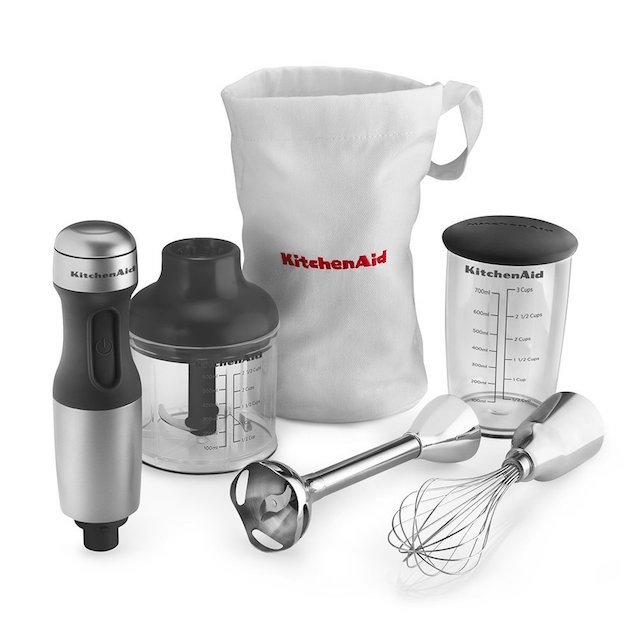 KitchenAid is a long-trusted brand when it comes to kitchen appliances, so you can rest assured that this product is going to live up to that reputation. It comes in a sleek silver finish that will match however you have your kitchen decked out. Included in this great price are the hand blender itself, a whisk attachment for the mixer, a chopper attachment, and a blending jar. Whether you want to make a quick salsa, chop some herbs, or make a smoothie in a convenient to-go cup, this blender is going to get the job done.
Rating: 4 Stars
Price: $41.20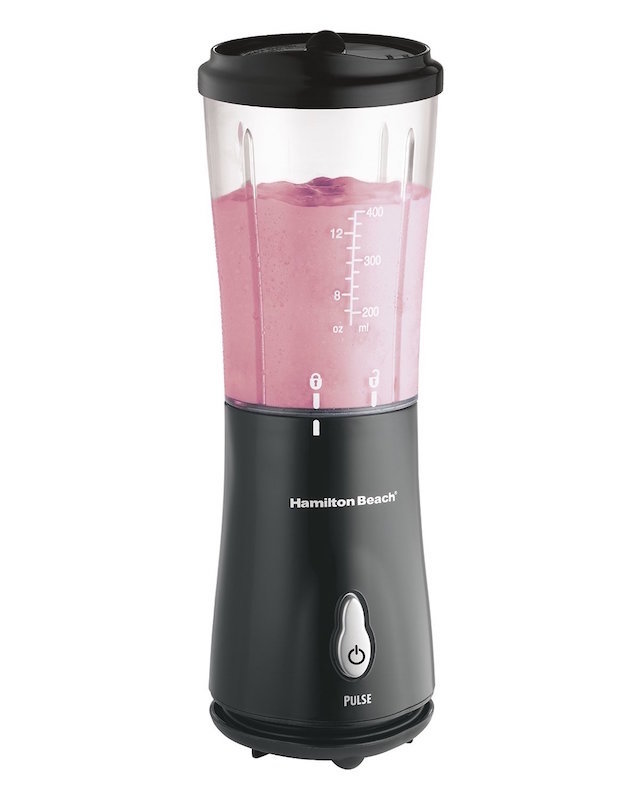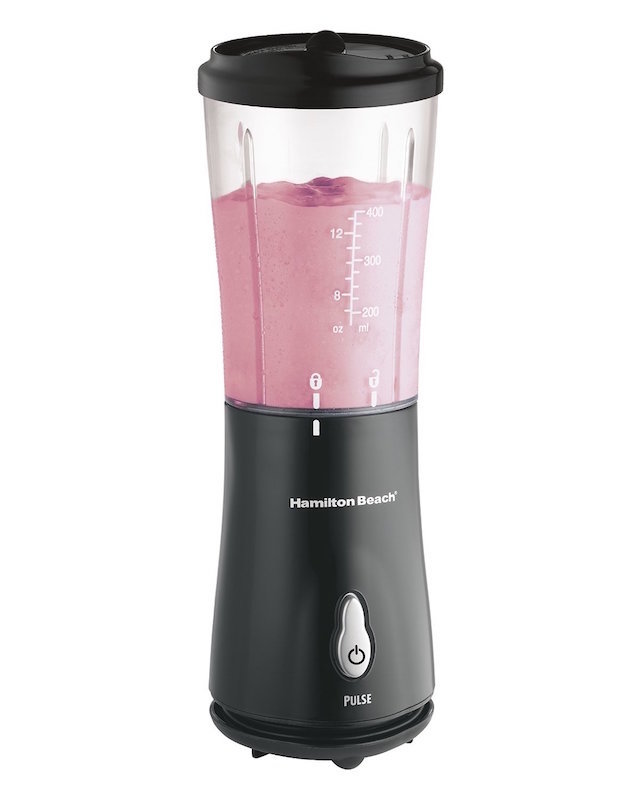 Breakfast just got so much simpler. The Hamilton Beach Bullet Blender comes with a 14-ounce blending jar that doubles as a travel cup (with a lid!). It's small enough that it could hang out on your counter without getting in the way or be tucked away until you need it. The cup comes in a pretty standard size for drink cups at 14 ounces, and it will fit into most cup holders. In a hurry to get out the door? Blend yourself up breakfast and just detach the cup and take it with you. No pouring, and no need to worry about spills.
Rating: 4 Stars
Price: $17.48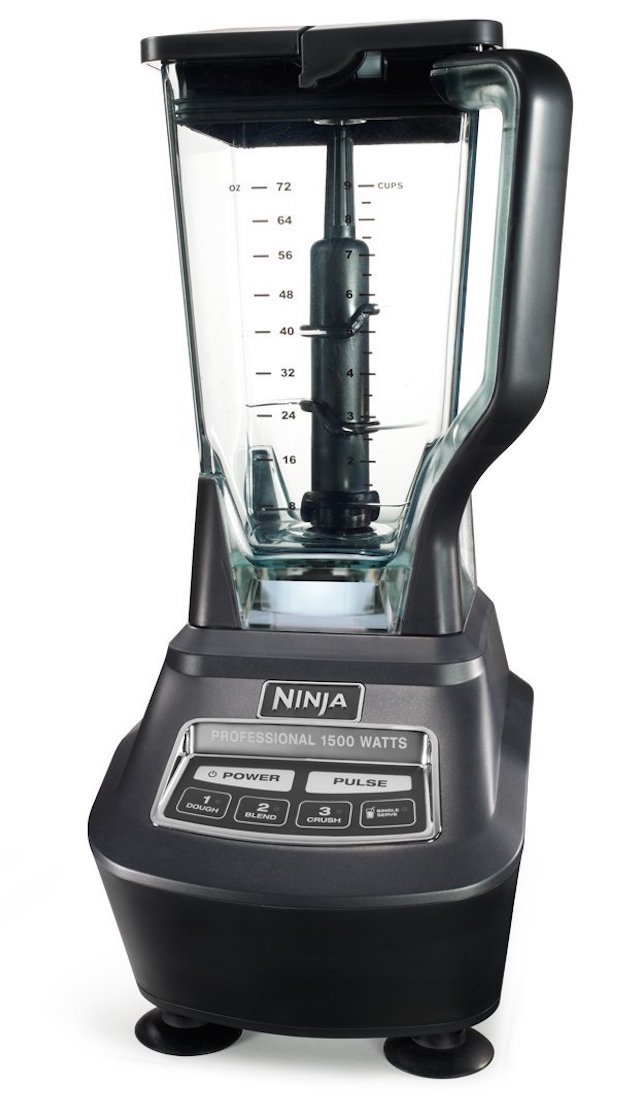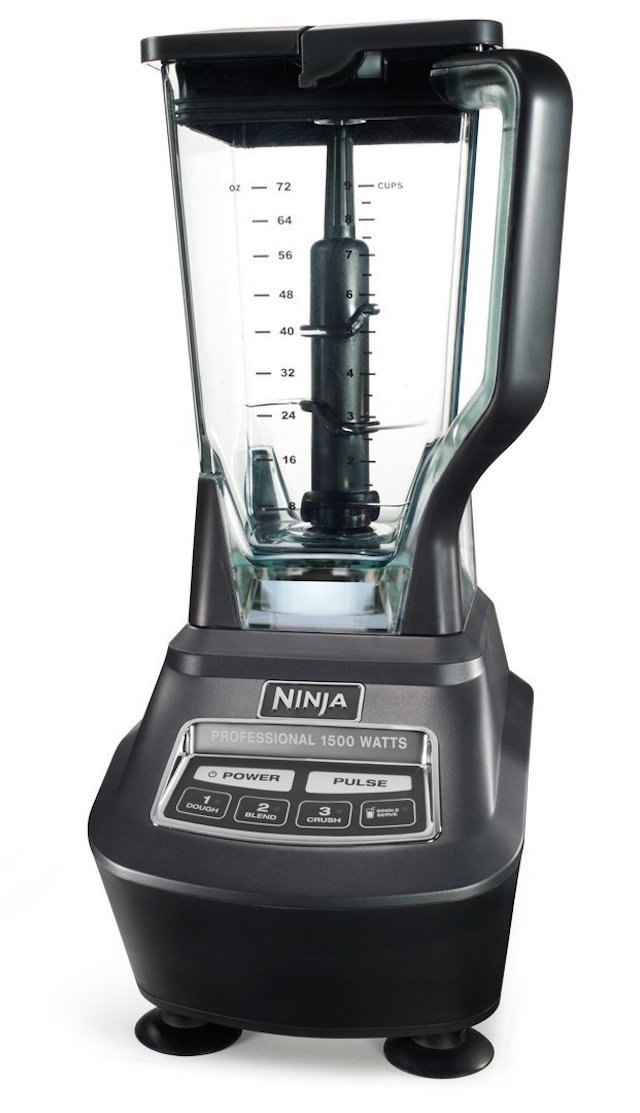 This Ninja Mega Kitchen System is a blender and a food processor that comes with two 16-ounce to go cups with secure lids. The pitcher can hold 72 ounces and can turn ice to fine powder within seconds for that perfect breakfast smoothie or 4th of July cocktail. The Food Processor bowl holds 8 cups. This is an excellent option for someone who is looking for a more permanent addition to their kitchen. The large size makes it perfect for preparing treats for your guests or your family.
Rating: 4.5 Stars
Price: $149.00
This blender is very similar to the one listed above with a few exceptions. This one tops out at 1100 watts whereas its father listed above tops out at 1500 watts. This one comes with the cups as well as a blade attachment so that you can make a single-serve drink if you'd like. The parts are all BPA-free and dishwasher-safe for easy cleaning up when the party's over. This blender can also crush ice like nobody's business. If you love the idea of the Mega Kitchen System but aren't sold on the food processor, this is a perfect alternative at a great price.
Rating: 4.5 Stars
Price: $99.99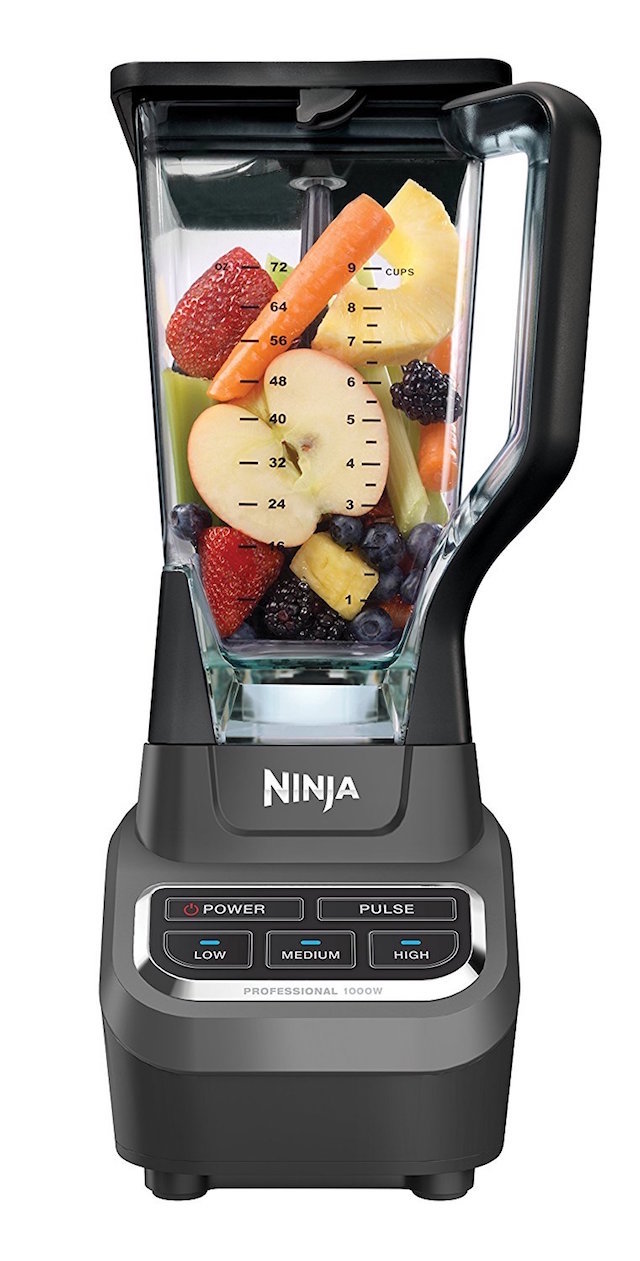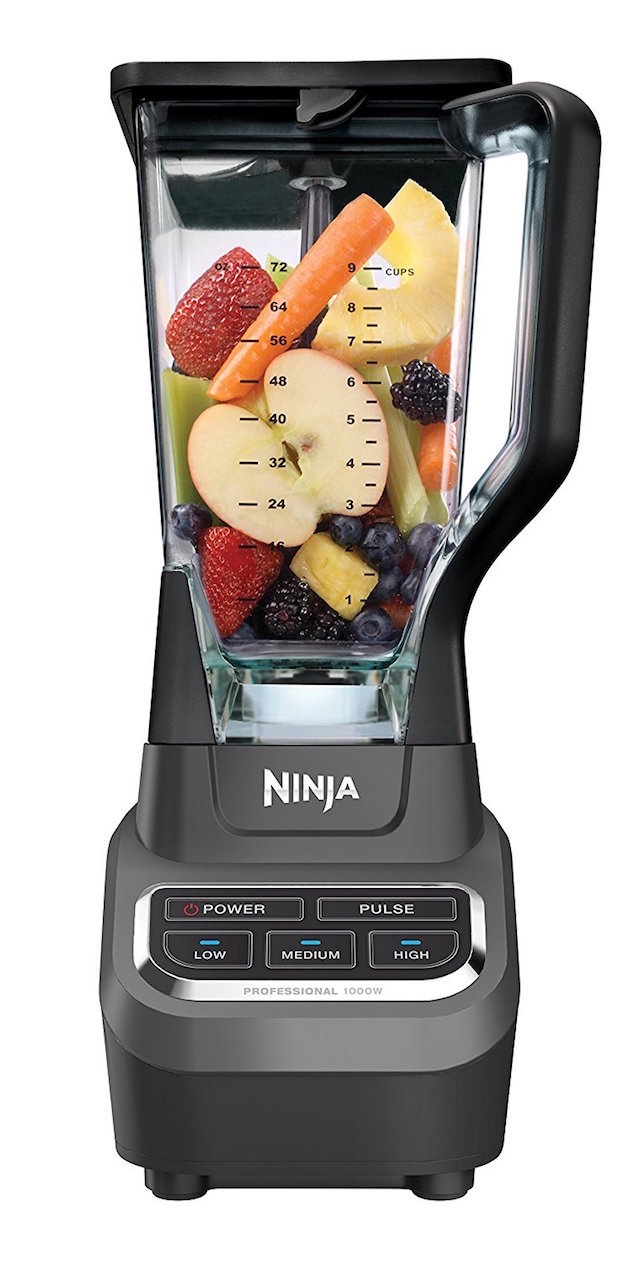 Ninja is dominating the list today with yet another fantastic blender. This is a 1000-watt option that comes with just the 72-ounce professional blender jar. If you want a powerful blender without all of the bells and whistles, this is precisely what you're looking for. Like the two predecessors, it features BPA-free parts that you can run through the dishwasher for hassle-free tidying up and Ninja's patented Total Crushing Technology thanks to the razor sharp and powerful blades.
Rating: 4.5 Stars
Price: $79.99
This Nutri Ninja Pro Blender comes in an elegant brushed silver finish and comes with two single-serve cups in a larger 24-ounce size and smaller 18-ounce size. Both cups come with airtight lids to seal in the freshness of your drink and help you avoid any mishaps. This blender features Ninja Pro Extractor Blades designed to get the most out of your fruits and vegetables so that you can have a smooth, delicious smoothie without losing any nutrients because you won't have to discard any skins or peels if you don't want to.
Rating: 4.5 Stars
Price: $49.99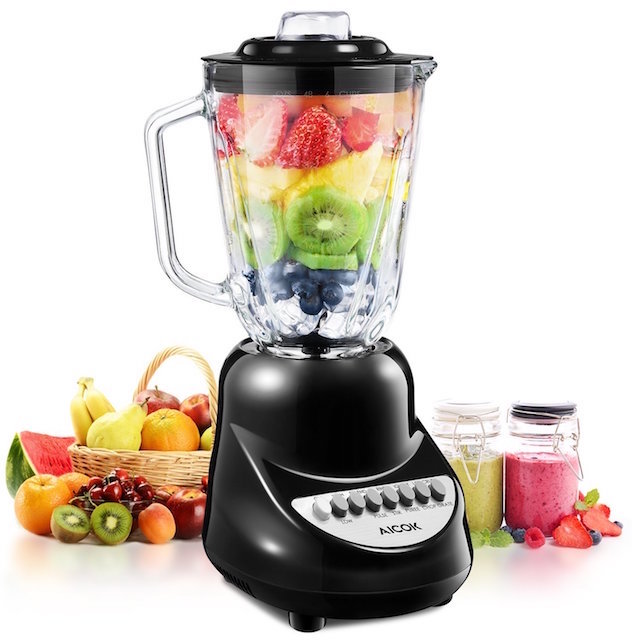 This product comes with a two-year warranty that you're not likely to ever need because it was crafted to be as durable as possible. The base has rubber grips to keep your blender in one place regardless of which of the ten different speeds you're using. The 50-ounce glass jar features a scale mark for precise measuring. All removable parts are dishwasher-friendly, including the invaluable measuring cup lid. Nuts, seeds, soups, shakes, and more don't stand a chance against the 4-Point Stainless Steel Blades. This is a great addition to any home chef's repertoire that won't break the bank.
Rating: 4.5 Stars
Price: $39.99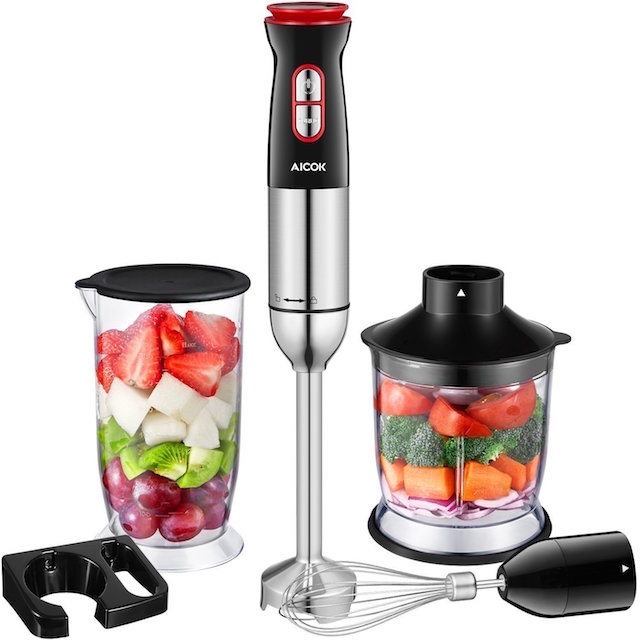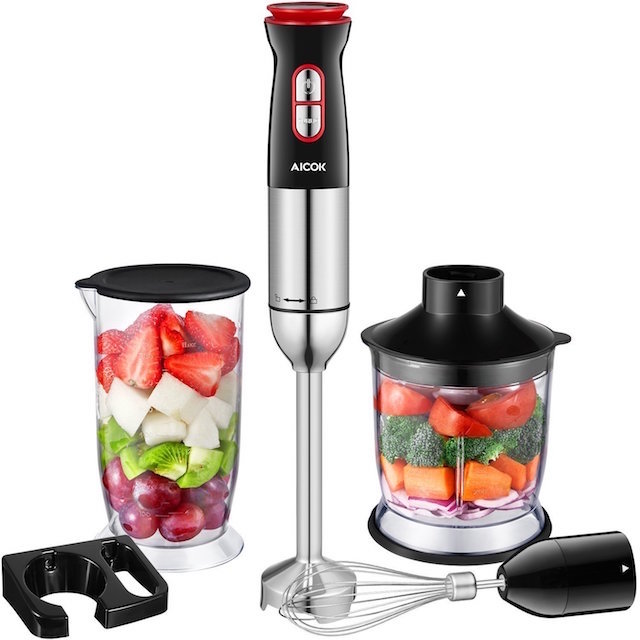 This 4-in-1 Immersion Blender can play any role without taking up your precious kitchen space. You can blend, chop, whisk, whip, puree, and emulsify until your heart's content with the 12 different speeds and functions of this blender. With your purchase, you will receive a food processor and a beaker along with a three-year warranty. Parts are dishwasher safe. Also, you will have the added benefit of a non-slip mat and an automatic shut-off mechanism, so there's no need to worry about messes or accidents.
Rating: 5 Stars
Price: $26.97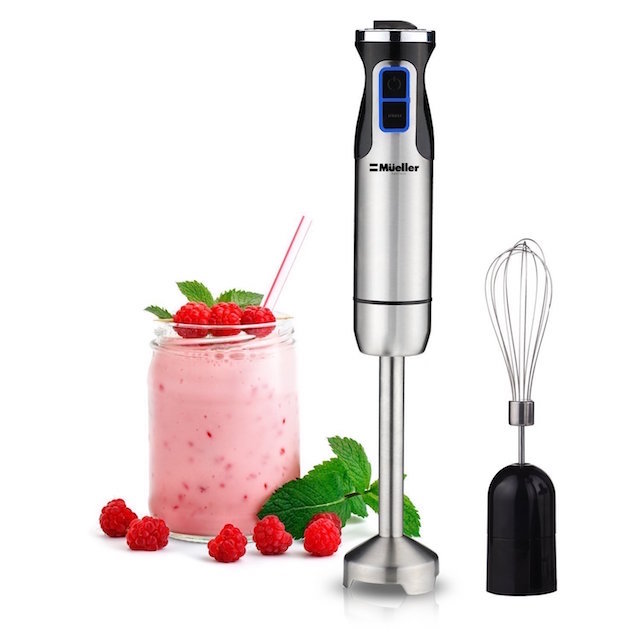 This is a multi-purpose hand blender that comes with a whisk attachment. Although it's not very big, it has a full copper motor made to last. The ergonomic grip is non-slip and very comfortable so you can blend your ingredients to your desired consistency in one fell swoop; the stick is also designed slim so that it fits in your hand and your mixing bowls without any problem. The shaft is detachable and can go right into the dishwasher when you're through using it. There are eight different speed options to choose from.
Rating: 5 Stars
Price: $24.99
This Aicok Personal Blender has come in at number one because it proves that you can get a powerful premier-quality blender without paying a premium price. This is a single-serve blender that blends your fruits and veggies to perfection and lets you screw off the blades and screw on the lid for a nutritious option that fits into your busy lifestyle. The detachable blades also make this appliance a breeze to clean. Another great feature of the blender is a safety lock, so if you happen to have curious kiddos running around, there's no way that they could accidentally turn it on.
Rating: 5 Stars
Price: $22.99
---
Related Brainz Content: