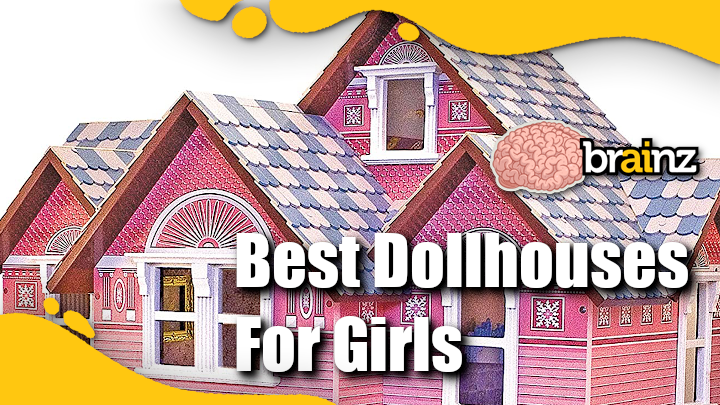 Most parents dream of buying a dollhouse for their daughters. It can provide years of entertainment for girls and their parents. A dollhouse can enhance creativity, improve communication skills, and offer a safe place to practice problem-solving skills. It is really the top must-have gift for girls, and there are many, many different types of dollhouses to choose from.
So which dollhouse will best grow with your children and continue to be fun among all the quick-paced, flashing toys? And how do you match the right size of a dollhouse with dollhouse furniture and accessories from all the different styles and brands? It begins to seem overwhelming to select the perfect house for your family. This list of the top 10 dollhouses for girls can help you make the best choice.
1
Plan Toys The Green Dollhouse with Furniture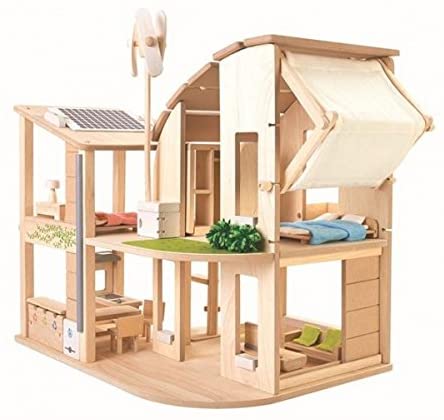 For an entirely different style and a truly unique dollhouse, check out this ultimate eco-friendly dollhouse. It is made entirely out of recycled wood and provides an added level of play and education for girls with its interactive wind turbine, solar panel, rainwater collection system, and recycling bins. The home is furnished and detailed, even with organic cotton sheets in the bedroom.
Buy this Green Dollhouse with Furniture online at Amazon.com
2
Melissa & Doug Classic Heirloom Victorian Doll House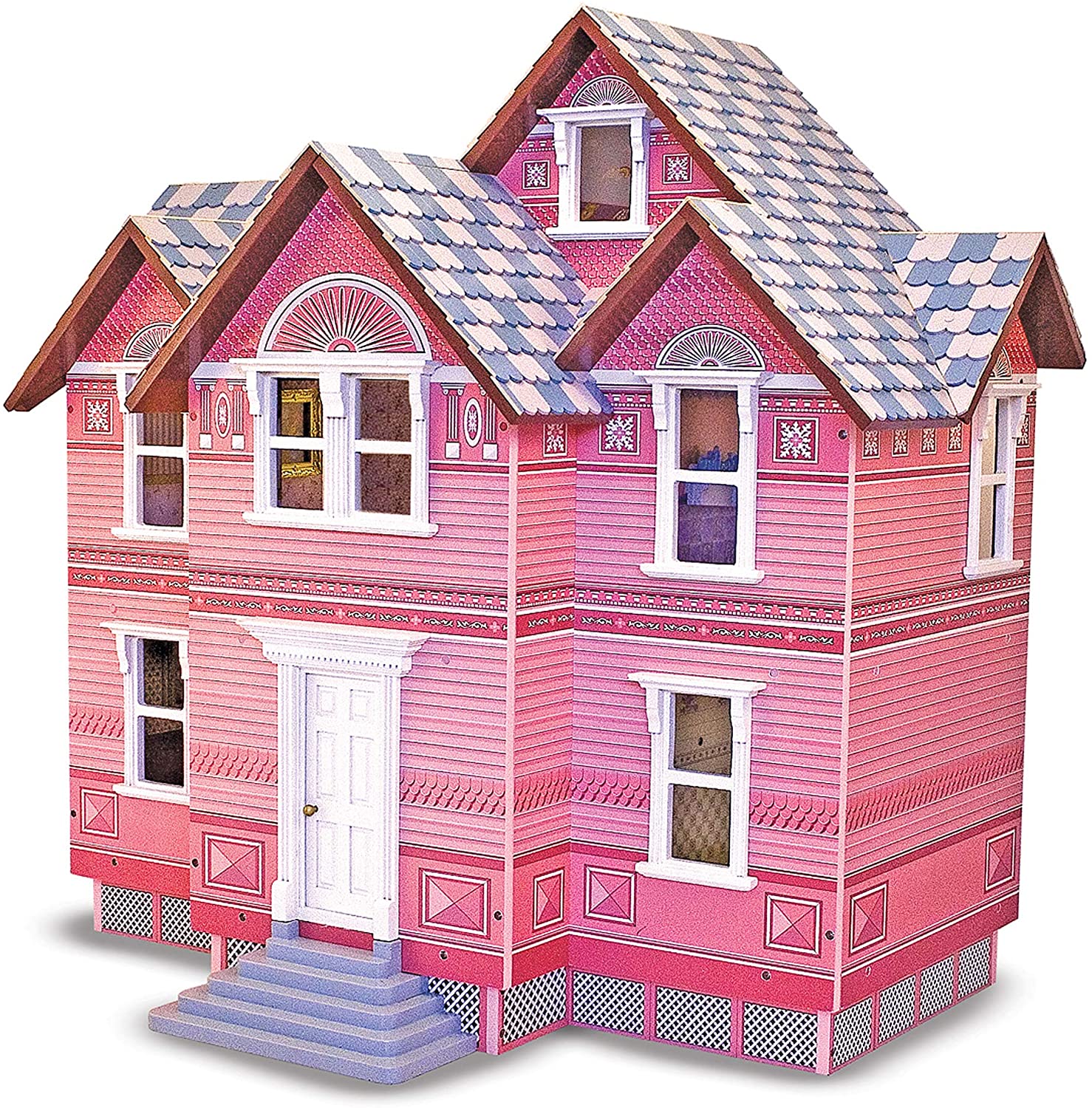 This is one of the best dollhouses because it is a classic and beautiful dream dollhouse with interior and exterior detailing unlike any other. It is a kit made by the always reliable, Melissa & Doug, the top brand in wooden interactive children toys, which takes about 2 hours to assemble.
This dollhouse does not have any furniture with it, but there is an excellent selection of Melissa & Doug furniture that can be purchased.
Buy this Classic Heirloom Victorian Doll House online at Amazon.com
3
Melissa & Doug Deluxe Wooden Folding Princess Castle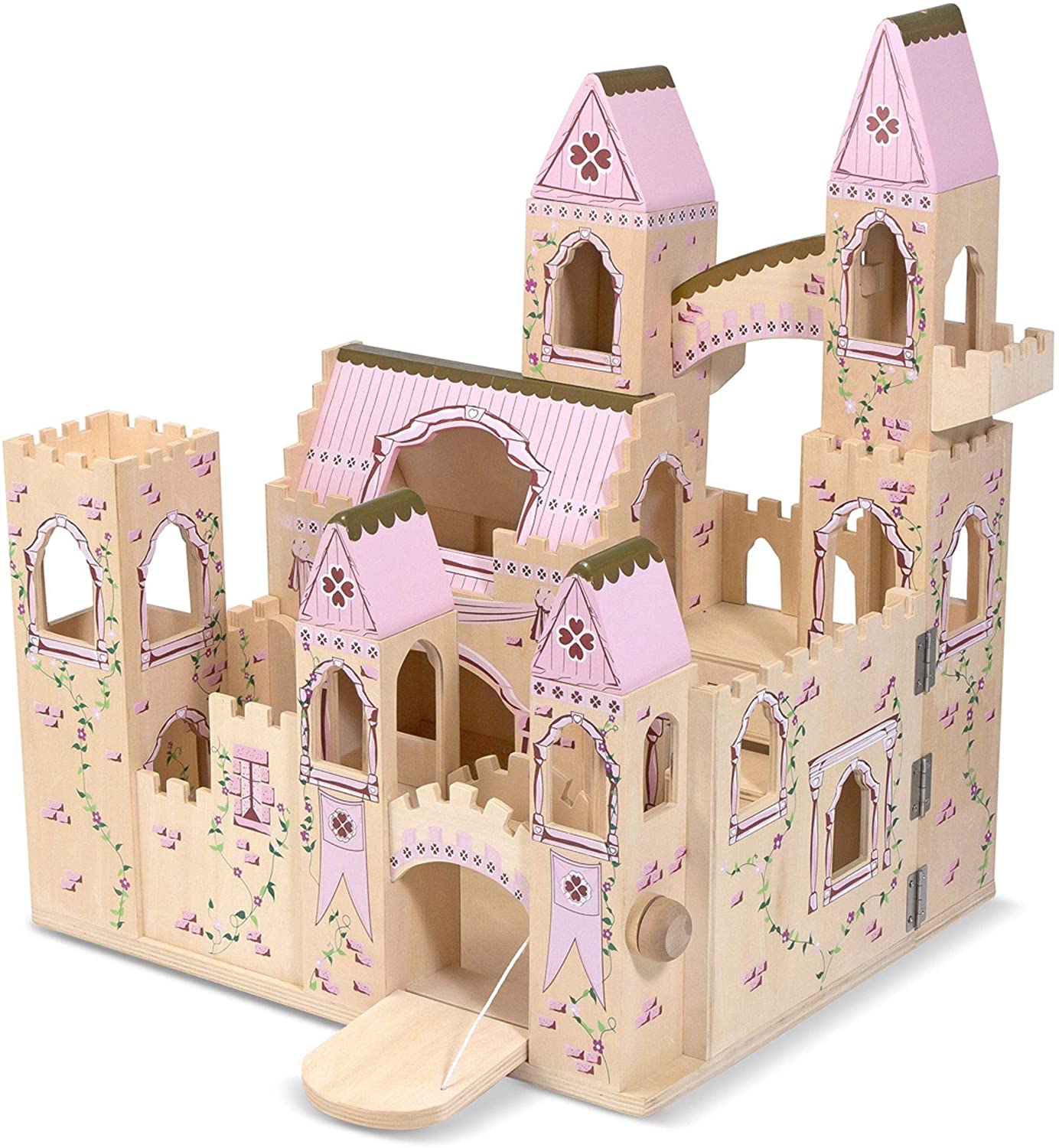 For a different style of dollhouse that will be adored by any princess, Melissa & Doug also makes a portable pink castle designed with intricate hand-paintings.
Though a smaller dollhouse, we included this one on our list of top dollhouses because it has received excellent reviews by parents and it provides so much entertainment with its turrets, balconies, buttress, and drawbridge.
You can also get a dragon, knight, fairy, and catapult, among other accessories. This dollhouse is good for 3-year-olds and up (though we've heard of older 2-year-olds enjoying it too!)
Buy this Deluxe Wooden Folding Princess Castle online at Amazon.com
4
Pidoko Kids Skylar Dollhouse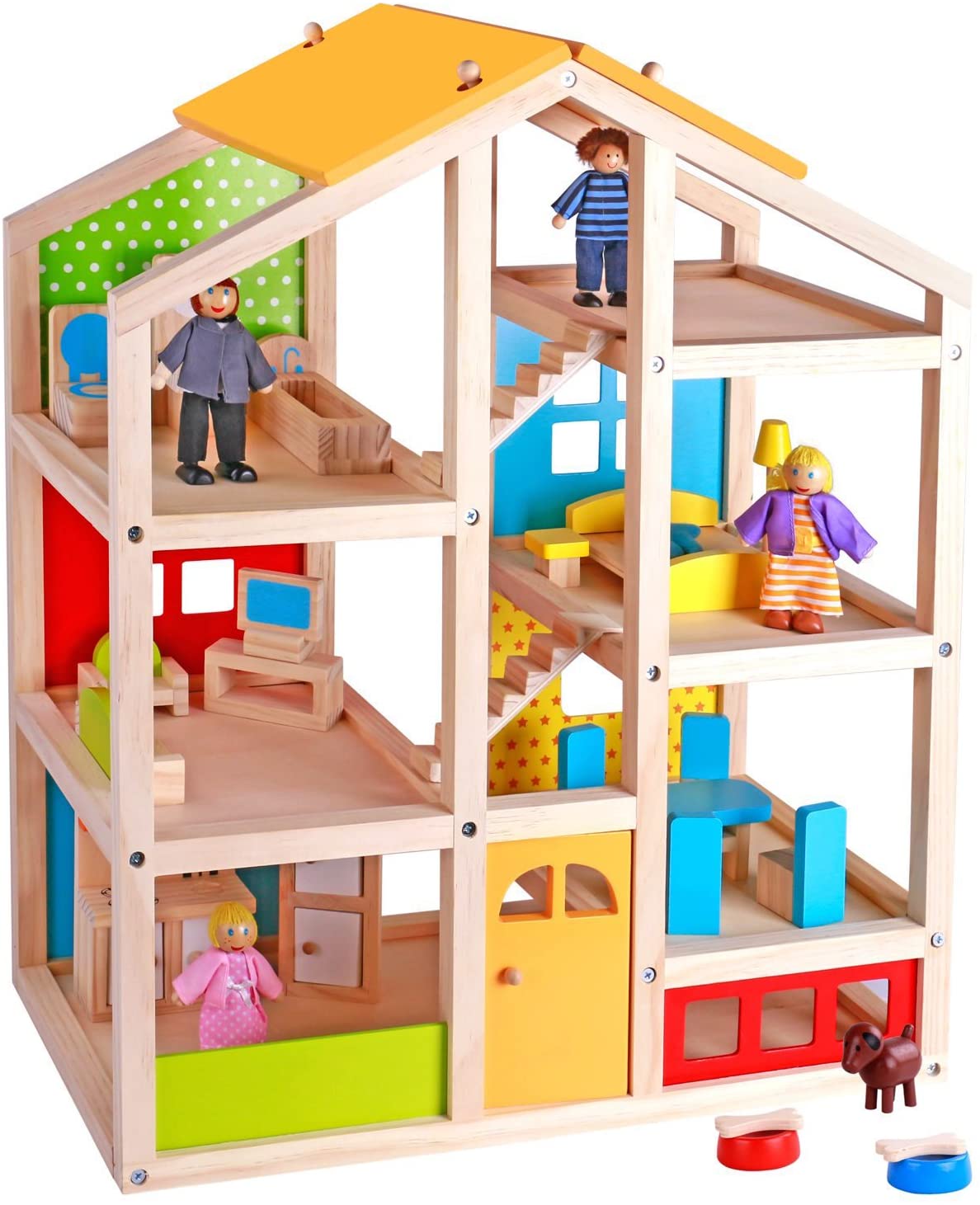 This is a great dollhouse for younger girls and toddlers, although the bright colors are gender neutral. It features sturdy wood construction with open sides allowing more than one child to play at one time. The stairs are movable, allowing children to put them wherever they want.
This dollhouse also comes with a family of five dolls and a pet dog that can inspire imaginative roleplay and story telling. There are also 20 pieces of wooden furniture and accessories to decorate the dollhouse.
The Pidoko Kids Skylar Dollhouse measures 23.8″ x 10.2″x 19.3″, is portable and assembles quickly.
5
KidKraft Charlotte Dollhouse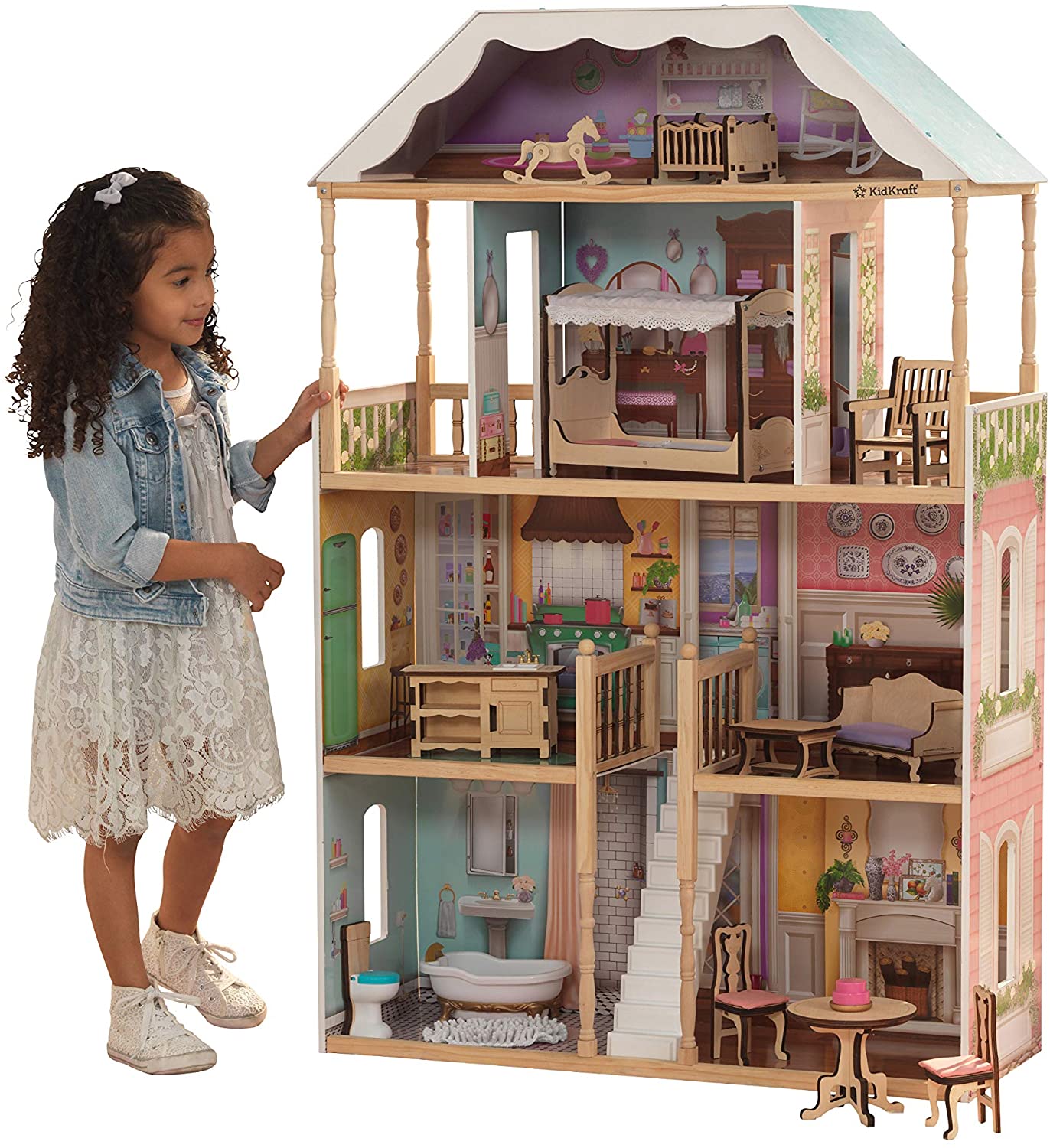 This huge dollhouse measures 32.5″ x 11.8″ x 49″ and features four levels, six rooms and twin balconies. It is constructed of real wood and has a classic design in pastels with scalloped detailing.
The KidKraft Charlotte Dollhouse comes with a 14-piece furniture and accessory set. It assembles quickly and easily.
When assembled, the dollhouse is over 4 feet tall and 12″ dolls are the perfect size guests. This dollhouse is so big that multiple children can enjoy playing with it at the same time.
Buy this huge classic design dollhouse and furniture on Amazon.
6
Barbie Dreamhouse Dollhouse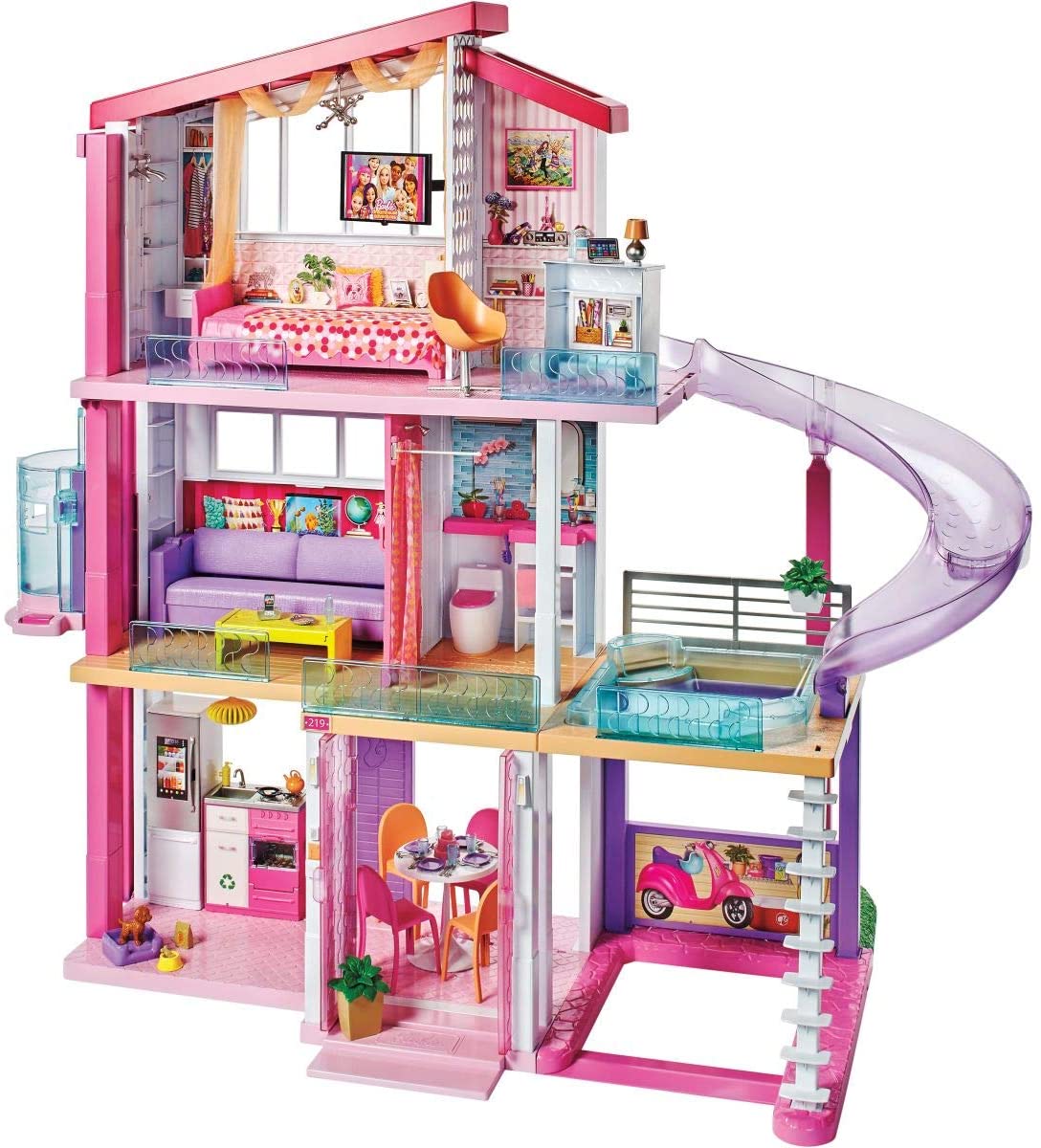 This dollhouse is the #1 best seller on Amazon. It measures 3 feet tall and 4 feet wide, has three stories, eight rooms, and features a pool, slide and working elevator that four Barbie dolls can fit in.
The Barbie Dreamhouse Dollhouse has a home office and a carport. The pool on the second floor can be filled with water and Barbies can use the slide on the third floor to make a splash.
The dollhouse also has lights and makes realistic sounds throughout. The frying pan sizzles on the stove, the tea kettle whistles, the oven lights up when you open the door, the oven timer ticks and the toilet makes a real flushing sound when the button is pressed.
It comes with 70 pieces including a couch that converts into bunk beds, the coffee table can be flipped to create a smaller bed, the fireplace flips to change the den into a home office, the kitchen sink can be turned into a barbecue and shelves or an oven and recycling bin. All of these features make it a very versatile and exciting place to play.
7
KidKraft Girl's Uptown Dollhouse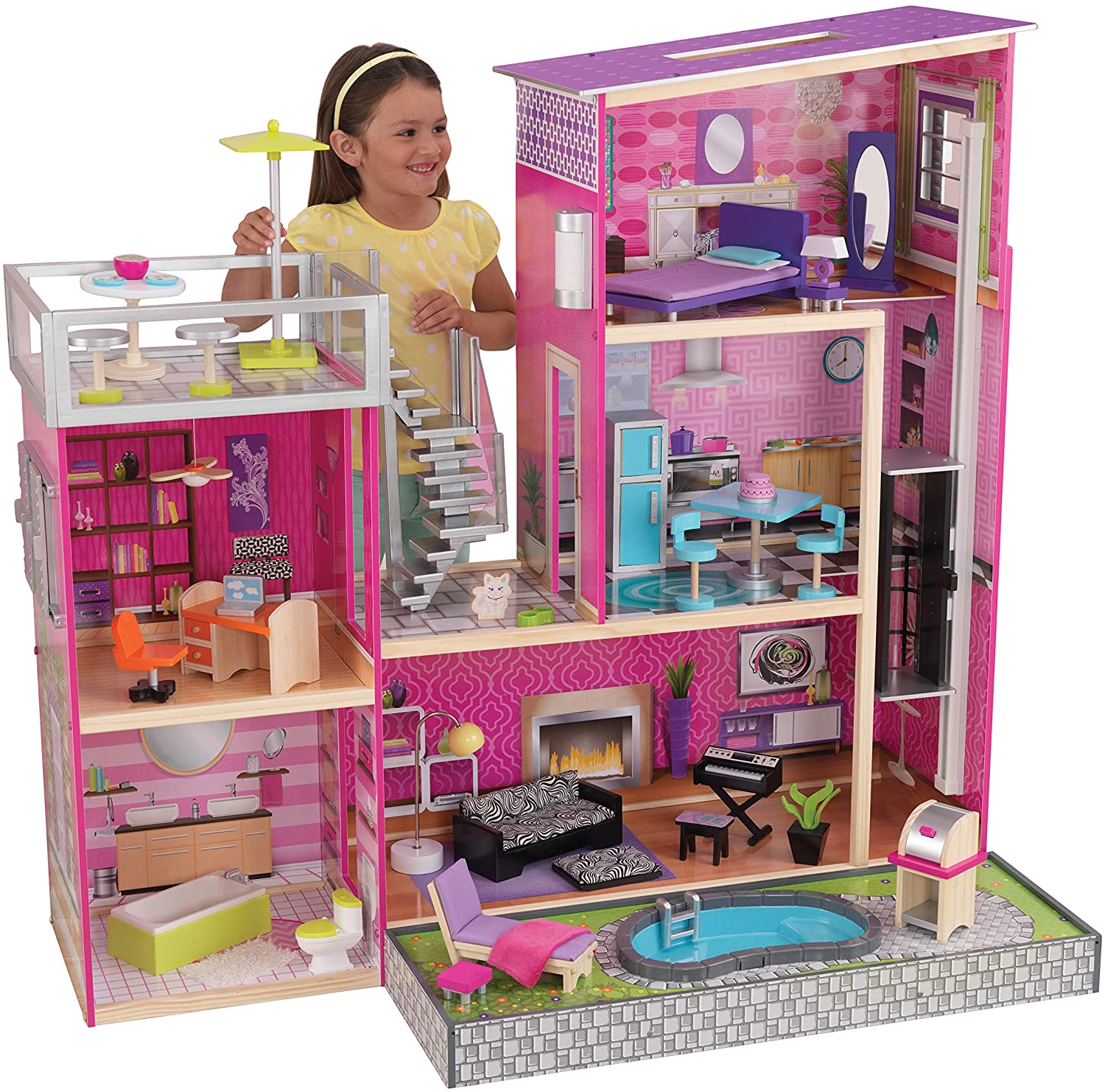 This amazing dollhouse by KidKraft has three levels, five rooms and two outdoor spaces including a swimming pool. It features an elevator that services all three floors.
The KidKraft Girl's Uptown Dollhouse is made of wood and is sturdy. It comes with complete assembly instructions.
The dollhouse comes with furniture and accessories and has lots of colorful artwork and details. It measures 46.25″ x 25.12″ x 61″ and requires 9 LR44 batteries, which are included.
Buy this Uptown Dollhouse with furniture and accessories on Amazon.
8
KidKraft Chelsea Doll Cottage with Furniture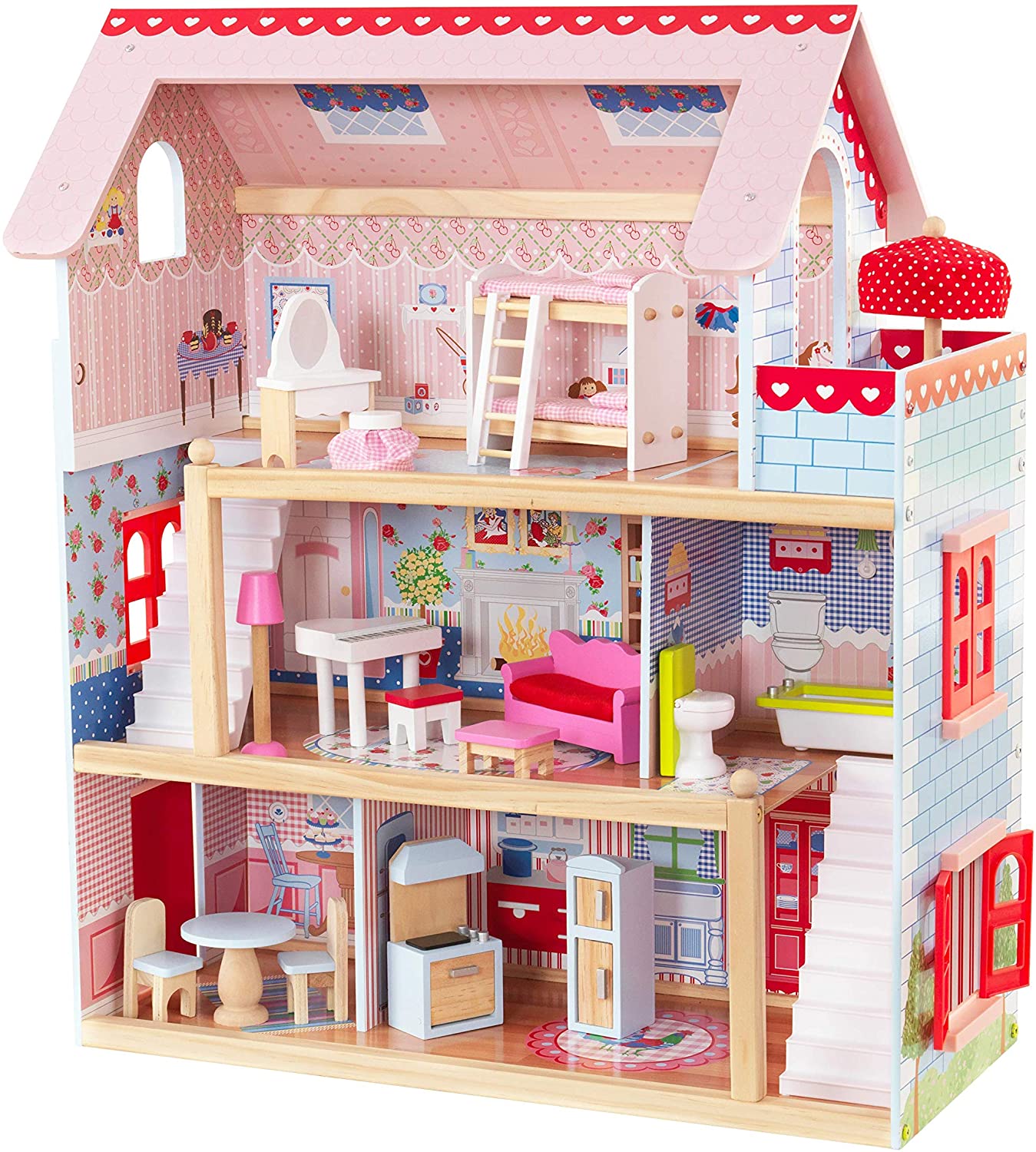 The Chelsea Doll Cottage by KidKraft has three levels, five rooms and a balcony. The windows open and close and it features two molded staircases.
This dollhouse is made of wood and comes with 17 pieces of furniture and detailed assembly instructions.
The cottage is intended for play with 4-inch dolls and is large enough for more than one child to play at once. It measures 24.5″ x 13″ x 28″ and although the manufacturer recommends it for ages 36 months to 3 years, older kids also have a lot of fun playing with this dollhouse.
9
Fisher-Price Loving Family Dollhouse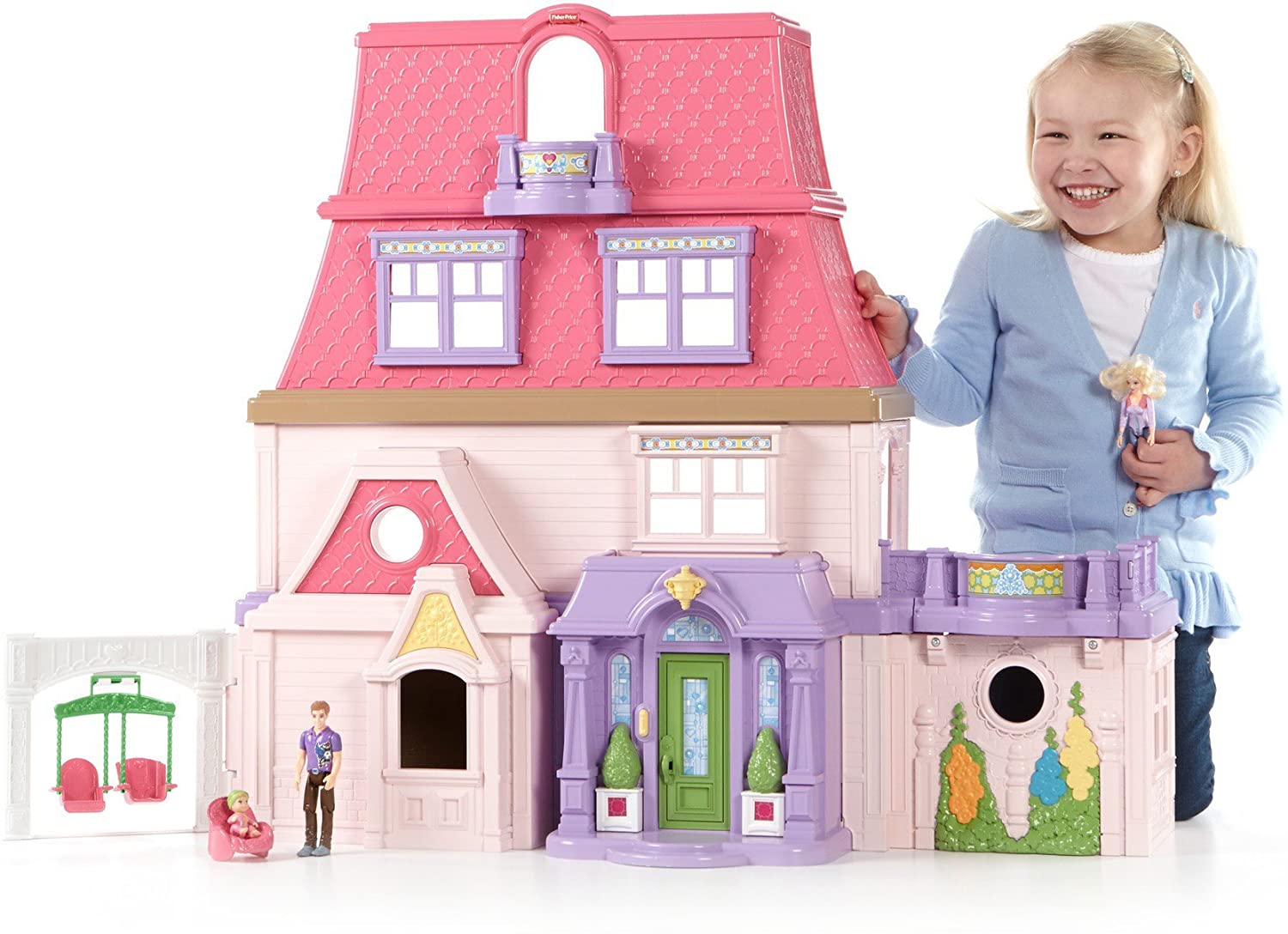 The Fisher-Price Loving Family Dollhouse is a foldable dollhouse that unfolds to reveal four floors and six big, open rooms. Unfolded it measures 25.6″ x 9″ x 16″.
It features a balcony, a swing set with two swings, a sofa, and a baby seat to accommodate the mom, dad and baby that come with it. There's also a 2nd floor patio off the kitchen for al fresco dining. There's even a doggy door in the back.
This dollhouse requires 2 AA batteries (not included) to create its fun sounds. All of the accessories can be folded up inside this dollhouse for convenient storage.
10
KidKraft Sweet & Pretty Dollhouse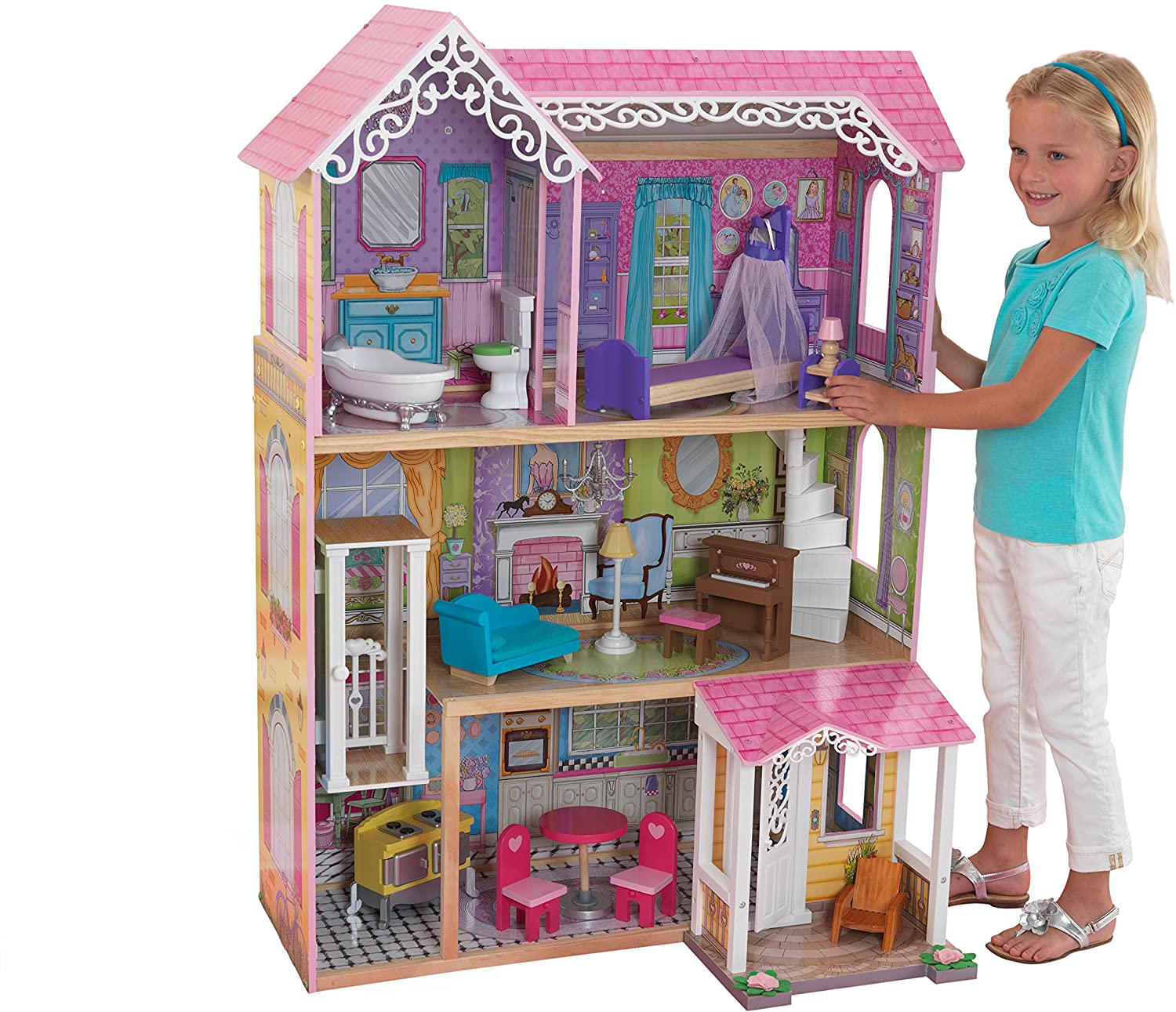 The KidKraft Sweet & Pretty Dollhouse is sized for use with Barbie and other dolls that are around 12″ tall. It has three floors, an elevator and a cozy front porch that can be moved. The front door also opens and closes.
This dollhouse comes with 15 pieces of furniture and the piano really plays music when the button is pushed. It takes 3 LR44 batteries, which are included.
Little girls from 36 months to 8 years old will enjoy hours of play with this dollhouse. It measures 20.5″ x 46.75″ x 33.75″ and takes about four hours to assemble, but your princess is worth it.
Buy the Sweet & Pretty Dollhouse for your princess on Amazon.
---
Related Brainz Content: