Most parents dream of buying a dollhouse for their daughters. It can provide years of entertainment for girls and their parents. A dollhouse can enhance creativity, improve communication skills, and offer a safe place to practice problem-solving skills. It is really the top must-have gift for girls, and there are many, many different types of dollhouses to choose from.
So which dollhouse will best grow with your children and continue to be fun among all the quick-paced, flashing toys? And how do you match the right size of dollhouse with dollhouse furniture and accessories from all the different styles and brands? It begins to seem overwhelming to select the perfect house for your family. This list of the top 10 dollhouses for girls can help you make the best choice.
1. Majestic Mansion Dollhouse
Obviously the best dollhouses are the ones that get the most play, and this Magestic Mansion will ensure years of play and happy memories for your daughter. This is our top choice of wooden KidKraft dollhouses, a leading brand in doll house design, because of its massive 4 1/2 foot size and detailed interior. It does need assembled, but its exquisitely crafted interior and contemporary decore will thrill. It includes 34 pieces of furniture, a grandfather clock, an elevator and a garage.
Buy the Majestic Mansion Dollhouse online at Amazon.com
2. KidKraft Savannah Dollhouse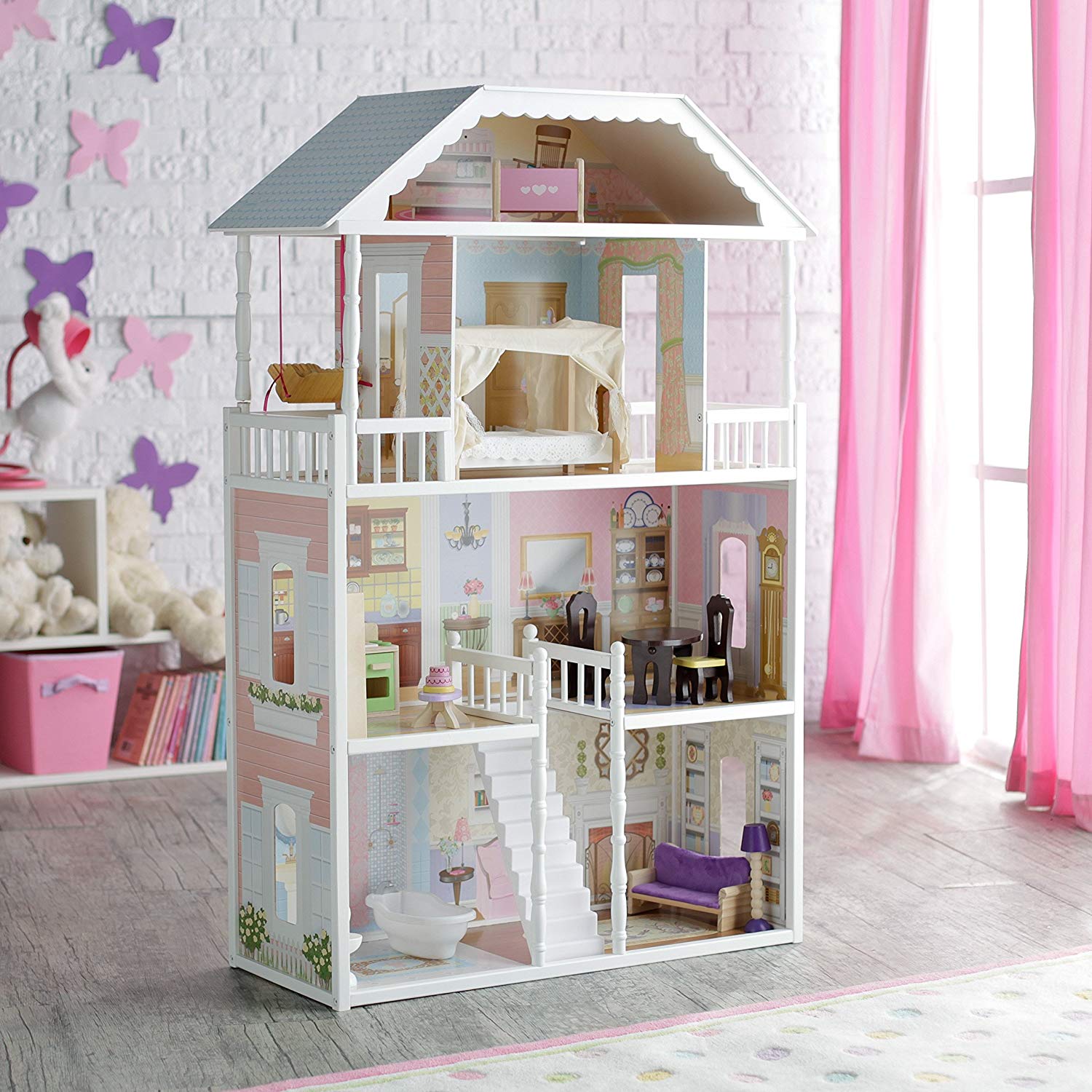 This is one of our favorite KidKraft wooden dollhouses because of the lovely and popular Savannah style. It is large, colorful and well-made, and is especially easy to assemble. It is one of the best because the house and the 14 pieces of furniture have such a realistic appearance, and its size provides the flexibility of using either typical doll house people or Barbie dolls.
Buy the KidKraft Savannah Dollhouse online at Amazon.com
3. Plan Toys The Green Dollhouse with Furniture
For an entirely different style and a truly unique dollhouse, check out this ultimate eco-friendly dollhouse. It is made entirely out of recycled wood, and provides an added level of play and education for girls with its interactive wind turbine, solar panel, rain water collection system, and recycling bins. The home is furnished and detailed, even with organic cotton sheets in the bedroom.
Buy this Green Dollhouse with Furniture online at Amazon.com
4. Melissa & Doug Classic Heirloom Victorian Doll House
This is one of the best dollhouses because it is a classic and beautiful dream dollhouse with interior and exterior detailing unlike any other. It is kit made by the always reliable, Melissa & Doug, the top brand in wooden interactive children toys, which takes about 2 hours to assemble. This doll house does not have any furniture with it, but there is an excellent selection of Melissa & Doug furniture that can be purchased.
Buy this Classic Heirloom Victorian Doll House online at Amazon.com
5. Melissa & Doug Deluxe Wooden Folding Princess Castle
For a different style of dollhouse that will be adored by any princess, Melissa & Doug also makes a portable pink castle designed with intricate hand-paintings. Though a smaller doll house, we included this one on our list of top dollhouses because it has received excellent reviews by parents and it provides so much entertainment with its turrets, balconies, buttress and drawbridge. You can also get a dragon, knight, fairy and catapult, among other accessories. This dollhouses is good for 3 year olds and up (though we've heard of older 2 year olds enjoying it too!)
Buy this Deluxe Wooden Folding Princess Castle online at Amazon.com
6. Fisher Price Loving Family Dollhouse
This is a great first Victorian dollhouse for your little ones. It is the only plastic set on our list, but plastic is a great and durable option for toddlers, and this one will amaze with all the colorful and interactive features and furniture. Some of the best parts are the option of selecting Caucasian or African American dolls, the twin babies, the dog with puppies, opening drawers and refrigerator, and 8 rooms to truly engage the young creative mind.
Buy this Loving Family Dollhouse online at Amazon.com
7. Melissa & Doug Deluxe Wooden Furnished Dollhouse
This is a small wooden dollhouse for younger children and is a toy that all grandparents should purchse to entertain their visiting granddaughters or grandsons, as it is a truly durable and long-lasting design. It is portable with a convenient handle, so it is also an excellent option for those with limited play space. This doll house is an easy purchase because all the pieces come with this home and it does not need assembled. It includes 2 stories, 4 dolls, 18 pieces of furniture, and a removable atrium and balcony. Although stated for 3 year olds and up, we find this to be one of the best dollhouses for toddlers because of its solid construction.
Buy this Wooden Furnished Dollhouse online at Amazon.com
8. So Chic Dollhouse
This is the perfect dollhouse for the trend-setter and will appeal to a variety of ages. Because of its massive size and 10 rooms, this doll house is great if you have more than 1 child, and it is unique because of its wheels and the ability to play with both sides of the house at once. It is wooden, but a more contemporary design and decore than most, and can fit different size dolls, including Barbies. This dollhouse is also a wonderful value since it comes with 50 pieces of furniture.
Buy the So Chic Dollhouse online at Amazon.com
9. Guidecraft Grand Victorian Dollhouse
This dollhouse kit is one of the greatest of all time because it is the classic do-it-yourself home from your childhood. Though doll houses have become elaborate and sophisticated through the years, this is a beautiful and well-engineered Victorian home that you can personalize. It is made of unfinished birch for you to complete with paint, stain, wall-paper and carpet. Some of its "grand" features include balconies, french doors and spiral staircases.
Buy the Guidecraft Grand Victorian Dollhouse online at Amazon.com
10. Mattel Barbie 3-Story Dream House Playset
Finally, we can't forget Barbie, and this is the ultimate pink mansion for her. Barbie's dream house includes 3 stories, a spiral staircase, realistic sounds and lights, a master-suite with a canopy bed, a very detailed kitchen, and an intercom system. It is enormous and has 60 pieces of furniture that are just the right size for Barbie, and the third floor even detaches to help Barbie feel comfortable on-the-go. Barbie's mansion does need assembled, but this model is much better quality than most Barbie houses.
Buy the Barbie 3-Story Dream House Playset online at Amazon.com
So those are our choices for the ten best doll houses for girls. Let us know what you think in the comments!