Depending on your preferences (or how well your children are behaving) theme parks can be a fun-filled good time for the whole family, or they can be a bizarre nightmare-fueling vacation.
For this Top 10 ranking, we will take a look at some of the more insane theme parks around the world that you can visit, if you dare. We can not promise you will have fun at any of these theme parks, but we can promise that your visit to them will leave a lasting impression on you! So, without further ado, let's take a look at the Top 10 Bizarre Theme Parks Around the World, shall we?
10: Parque Jaime Duque, Colombia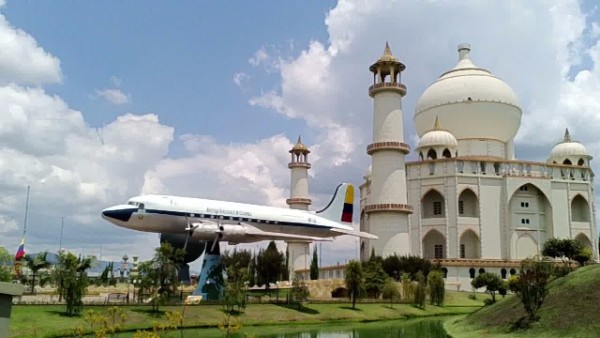 Jaime Duque Park is a family-oriented amusement park that is located in Bogotá, Colombia. The theme park is home to the Jaime Duque Zoo, the Museum of Mankind, as well as various replicas of several major locations and famous buildings from around the world. The park also has a large outdoor stage that is utilized for live performances. This stage has hosted performances by musicians such as Guns N' Roses, The Killers, David Guetta and Evanescence among others.
So, what is the weird draw of Parque Jaime Duque? Mostly the replica locations and buildings that are scattered throughout the park. The park contains models of things such as the Taj Mahal in India, replicas of the Seven Wonders of the Ancient World including the Hanging Gardens of Babylon, the Lighthouse of Alexandria, the Temple of Artemis, and the Great Pyramids. The park also has giant statuary and art installations, one being a large hand holding a globe and large maps of Columbia and the Caribbean Sea.
9: Grūtas Park, Lithuania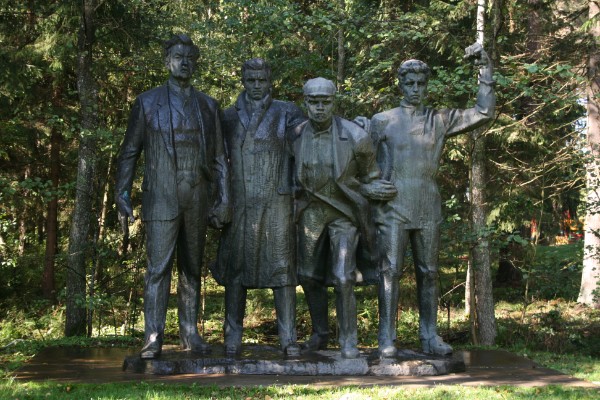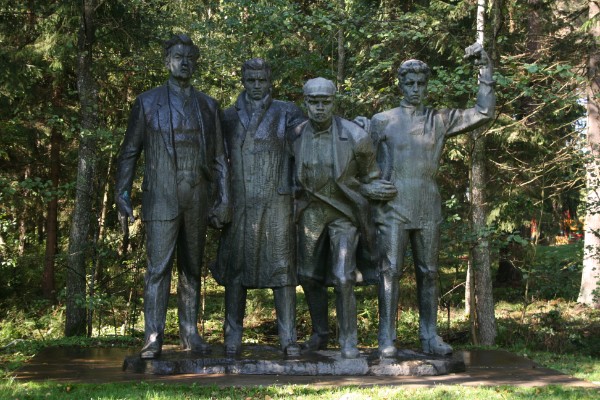 Located near Druskininkai, Lithuania, Grūtas Park is an unusual theme park. Created in 2001, the park is a sculpture garden that is often referred to as Stalin's World. The park was created by entrepreneur Viliumas Malinauskas, who–after Lithuania regained its independence in 1990 and various Soviet statues were taken down and dumped in different places–requested that the Lithuanian authorities grant him the possession of the sculptures. The Lithuanian authorities granted Malinauskas his request, and he used the statues to create a theme park.
Malinauskas' Grūtas Park is full of Communist Leader statuary and recreations of various Soviet Gulag prison camps, such as wooden paths, guard towers, and barbed-wire fences. The park's initial establishment in 2001 faced some very fierce opposition, and its existence is still highly controversial among many groups. Some ideas originally meant to be a part of the park were never allowed to happen, such as transporting the visitors into the park in a Gulag-style train.
8: BonBon-Land, Denmark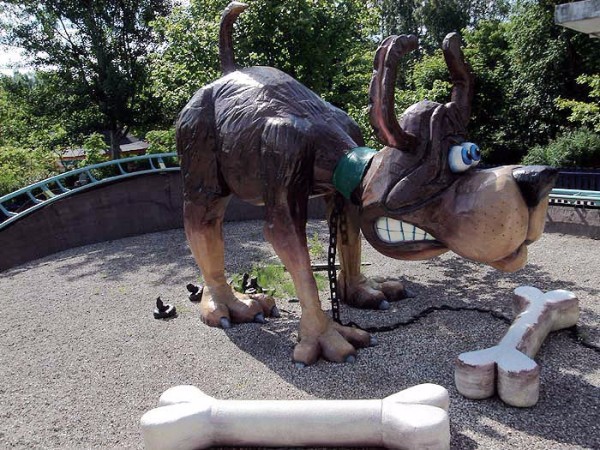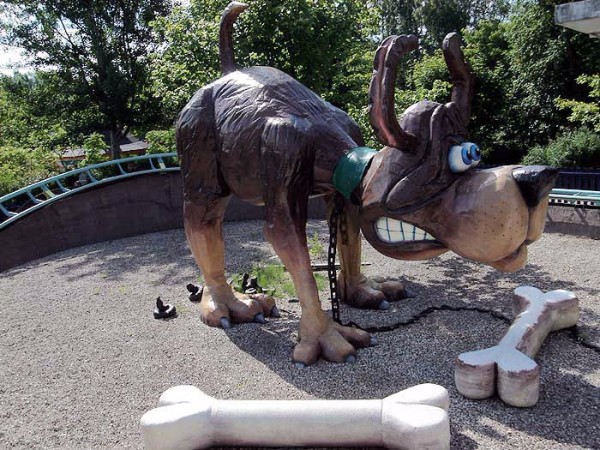 BonBon-Land is located in Holme Olstrup (in the South of Sjælland), which is a small town in Denmark. BonBon-Land is an adult-oriented theme park and, despite this, is also the most popular theme park among children in Denmark. The history of theme park BonBon-land can be dated back to when the Danish sweets boiler Michael Spangsberg got an idea to produce wacky candy with such funny names as 'mågeklatter,' 'hundeprutter,' and 'tissebleer.' The candy was a hit and children wanted to visit the factory to see how it was made. However, the production of the candy had to meet strict hygiene regulations so that the company couldn't offer any visitors a tour. As a result, Spangsberg came up with the idea to open a theme park.
BonBon-Land features many gross and crass visuals, jokes and rides. Boogers, farts, feces, and boobs are some of the many sites and visual gags that visitors to the park will witness. For example, one of the more famous of the theme park's rides is the steel sit-down roller coaster known as the Hundeprutterutchebane (English: The Farting Dog Switchback). There are also many pieces of statuary and sculptures dotting the theme park, such as a squatting dog, anthropomorphic cows exposing their breasts, and giant puking rats.
7: Jeju Loveland, South Korea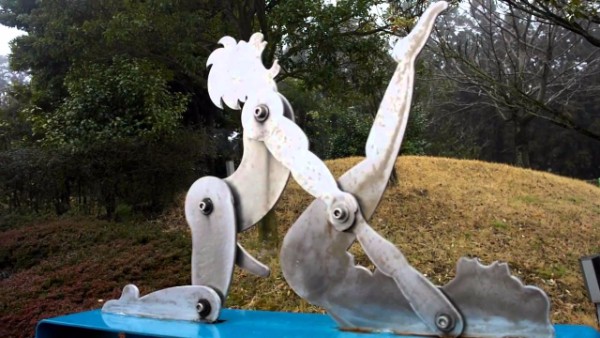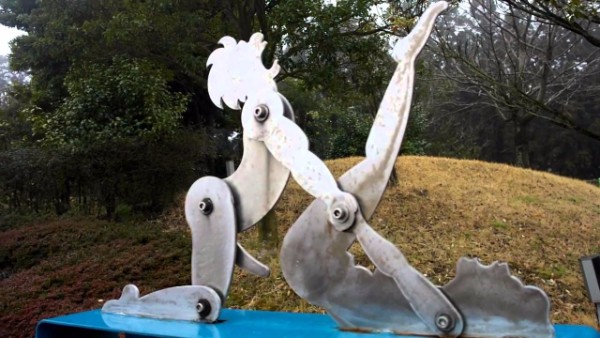 Jeju Loveland, which is also known as Love Land, is a theme park that is located on Jeju Island in South Korea. The park is an outdoor sculpture park, and the park is focused on the topic of sex, with running sex education films and 140 sculptures that represent humans in various stages of numerous different sexual positions. The park also has many other attractions such as large phallus statues, stone labia statues and even various hands-on exhibits such as a "masturbation-cycle." The park's website describes itself as being "a place where love-oriented art and eroticism meet."
After the Korean War is when Jeju Island became a popular honeymoon destination for numerous Korean couples, partly due to the island's warm climate and due to the Cold War-era restrictions on overseas travel that were in place. Many of the couples had wed because of arranged marriages, and the so the island–over time–became known for being a center of sex education to educate these new couples. Overall, Love Land serves an important cultural role for many Korean couples, but that doesn't truly detract from how odd the sex-themed park is for many others.
6: World Joyland, China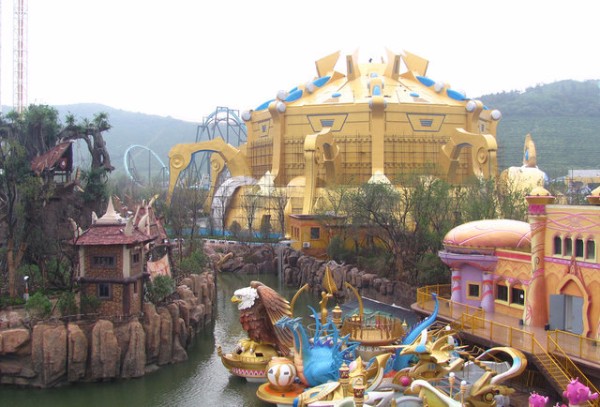 World Joyland (also known as CC Joyland) is a theme park that is located in Changzhou, which is in the southern Jiangsu province of the People's Republic of China. The theme park is themed after the popular MMO (Massively Multiplayer Online) game World of Warcraft and the popular RTS (real-time strategy) game Starcraft. Despite being themed after these two Activision Blizzard video games, the park itself is in no way, shape or form endorsed by Blizzard.
World Joyland opened in 2011 and reportedly cost more than $48M USD to build. Oddly, World of Warcraft and Starcraft are not the only things that the theme park rips off; they are just the main things. At the entrance to the park is a spinning globe that is a nearly exact replica of the globe that greets visitors outside of Universal Studios in Florida. Other franchises that the park rips off includes Transformers, Doraemon, Hello Kitty, Garfield, DC and Marvel characters among many others.
5: Divo Ostrov, Russia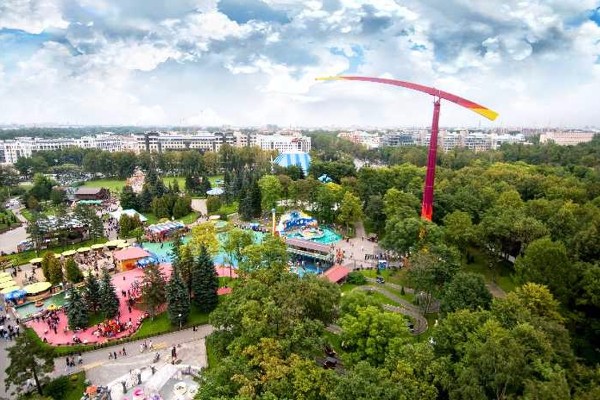 Divo Ostrov isn't as bizarre on the surface when compared to the other theme parks in this ranking but trust us–it deserves this spot. Divo Ostrov is a theme park that is located in St. Petersburg, Russia. The theme park is fairly reminiscent of other popular parks, such as Universal Studios, Six Flags, Disney World and others. The main difference is Divo Ostrov has many more adrenaline-pumping thrill rides than your average theme park.
And this is where Divo Ostrov shows how truly bizarre it is. With all of the exciting, heart-pounding rides that are available for the whole family to enjoy, you would think that the safety regulations at Divo Ostrov would be top-notch, right? Well… sadly, no. It was reported that, in 2010, ten riders on a rocket-style attraction at the park were left dangling from a single thread more than 200 feet in the air when a cable snapped. In 2008, a 12-year old girl sustained serious injuries on a ride at the park in an accident that also involved a broken cable. The list, sadly, goes on and on. Maybe skip this theme park for your next vacation?
4: Beijing Shijingshan Amusement Park, China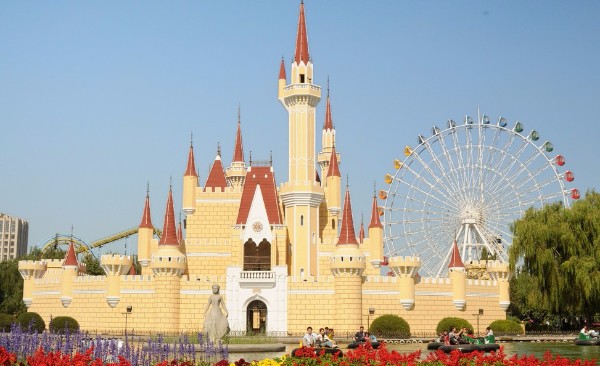 Located in Bajiao, the Shijingshan District of Beijing in the People's Republic of China, Beijing Shijingshan Amusement Park is often referred to by its derogatory name of Fake Disney. But, to be fair, this "derogatory" name is fairly apt. Beijing Shijingshan Amusement Park won the fourth spot in this Top 10 ranking because it is an unlicensed rip-off of Disney World. The park prominently features a castle that "resembles" Disney's trademarked Cinderella's Castle and it also features structure that "looks like" Epcot's Spaceship Earth. Additionally, the park also features many costumed characters that are look remarkably similar to various Disney trademark characters, and also characters such as Shrek, Hello Kitty, Doraemon, Bugs Bunny, and a myriad of other trademarked characters.
The park, which first opened on September 28, 1986, is currently owned and operated by the Shijingshan District government. Park officials strongly deny any wrongdoing and–when asked by various reporters if the characters are related to Disney–the theme park's acting general manager Liu Jingwang said that the characters that are featured throughout the park are based on Grimm's Fairy Tales and not any trademarked characters. Yeah, right.
3: Išgyvenimo Drama, Lithuania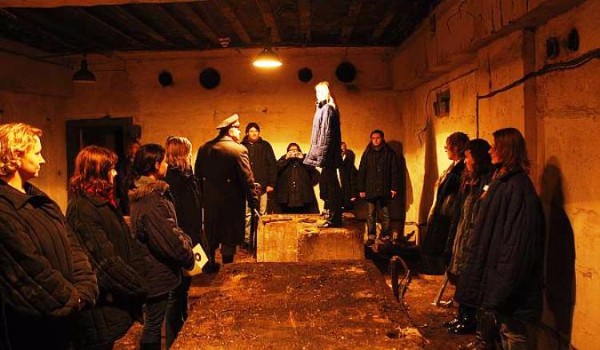 Picture this: you want to take your family on a nice vacation to Lithuania. Check out the sites, learn about another culture, try new food. Maybe you want to do some touristy stuff. Maybe, just maaaaybe you want to check out a theme park. You hear of this unique theme park called Išgyvenimo Drama. Sounds cool, so you decide to go. You get to the park and then… you get ambushed, blindfolded and taken to an underground bunker for interrogation. This isn't a hypothetical. This is what visitors to Išgyvenimo Drama experience. The theme park's draw is to highlight what it was like to live in an area that was under the control of the USSR.
The theme park utilizes real dogs, employs former KGB officers and the theme park takes place in an old Soviet bunker. Aside from being what we assume is an absolutely terrifying experience, the theme park is incredibly popular with tourists and locals alike. Additionally, the theme park is also highly educational, providing park attendees a unique opportunity to learn about what life was like for so many people under the harsh USSR regime.
2: Suối Tiên Amusement Park, Vietnam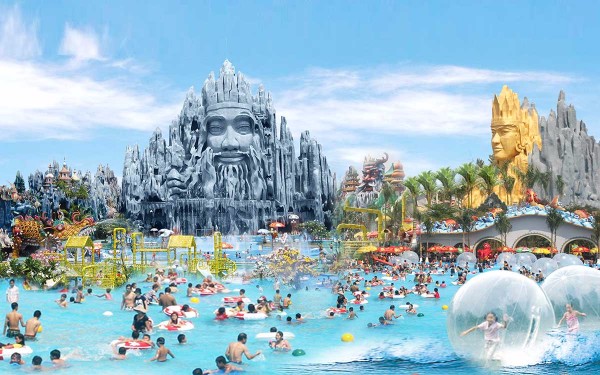 Suối Tiên Amusement Park is located in Hồ Chí Minh City, Vietnam in District 9. The park opened in 1995 and the landscaping and attractions featured in the park illustrate and highlight Vietnam's history and various legends. Some of the highlights include u Cơ and Lạc Long Quân as well as the Battle of Son Tinh and Thuy Tinh (The Mountain God and The River God) among others. An artificial seawater pool is also located in the park for people to swim in and enjoy. Additionally, there is also a dinosaur garden and a massive roller coaster that is unceremoniously dubbed "Roller Coaster."
Suối Tiên Amusement Park is a little less bizarre and a bit more stunning. The park is full of spectacular views and scenery, and the park as a whole serves to highlight the history and cultural legends of Vietnam, which it does flawlessly. Suối Tiên Amusement Park deserves its spot on this ranking due to how unique it is and how beautiful the park looks.
1: Haw Par Villa, Singapore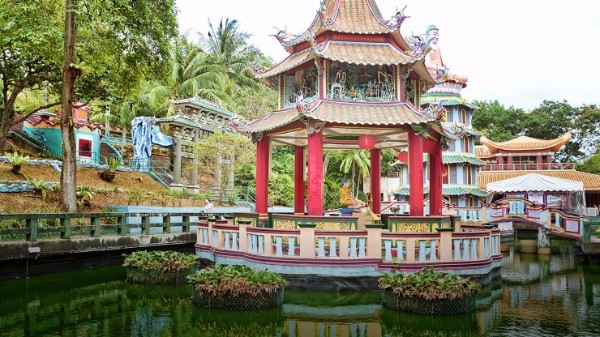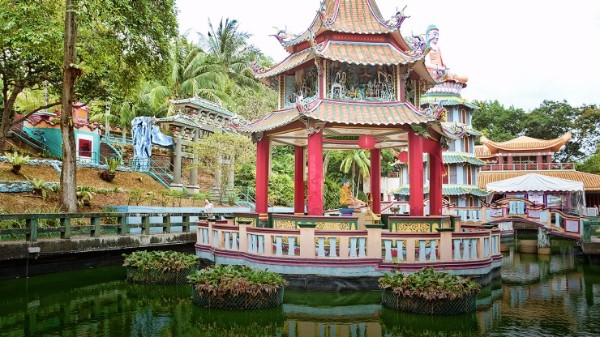 Haw Par Villa is a theme park that is located along Pasir Panjang Road in Singapore. The park contains in total more than 1,000 statues and 150 giant dioramas which depict various scenes from Chinese mythology, folklore, legends, history, and which features illustrations of various aspects of the Confucianism religion.
Arguably the best-known attraction in Haw Par Villa is the Ten Courts of Hell, which features detailed and gruesome depictions of what Hell is thought to be like in Chinese mythology and Buddhism.
Other major attractions at the theme park include dioramas of scenes from Journey to the West, Fengshen Bang, The Twenty-four Filial Exemplars and the Romance of the Three Kingdoms. Additionally, there are numerous statues of mythological figures such as the Laughing Buddha and Guanyin, and many historical figures such as Jiang Ziya, Su Wu, and Lin Zexu among others.
---
Related Brainz Content: