Optimum Nutrition started in Middlesbrough, UK, back in 1986, making it one of the oldest companies in the field. Optimum takes pride in being one of the few supplement companies to manufacture products in every category. Their products are available across the world, including, obviously, the US.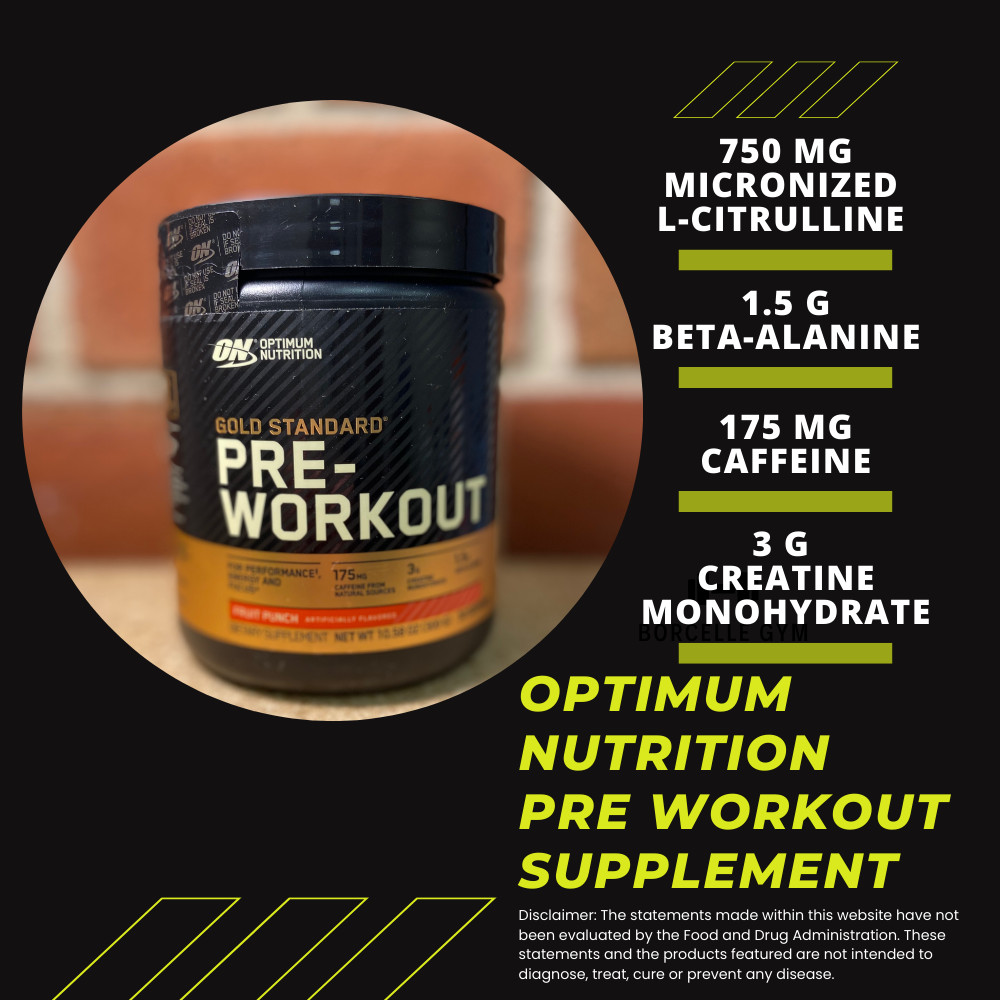 Initial Impressions With Optimum Nutrition Pre Workout
Gold Standard Pre Workout looks good. It comes packaged in a sturdy, sealed plastic tub, with an added holographic decal on the lid to show the product has not been tampered with. The simple design gives Gold Standard a professional, medicinal appearance, unlike the over-worked designs of many other supplement brands.
Gold Standard Pre Workout comes as a very fine powder that puffs into the air with the lightest tap and mixes down quickly in a shaker bottle. While the powder appears colorless, it mixes to an extremely bright, unnatural red. If unnatural colors bother you, you might find it a little off-putting.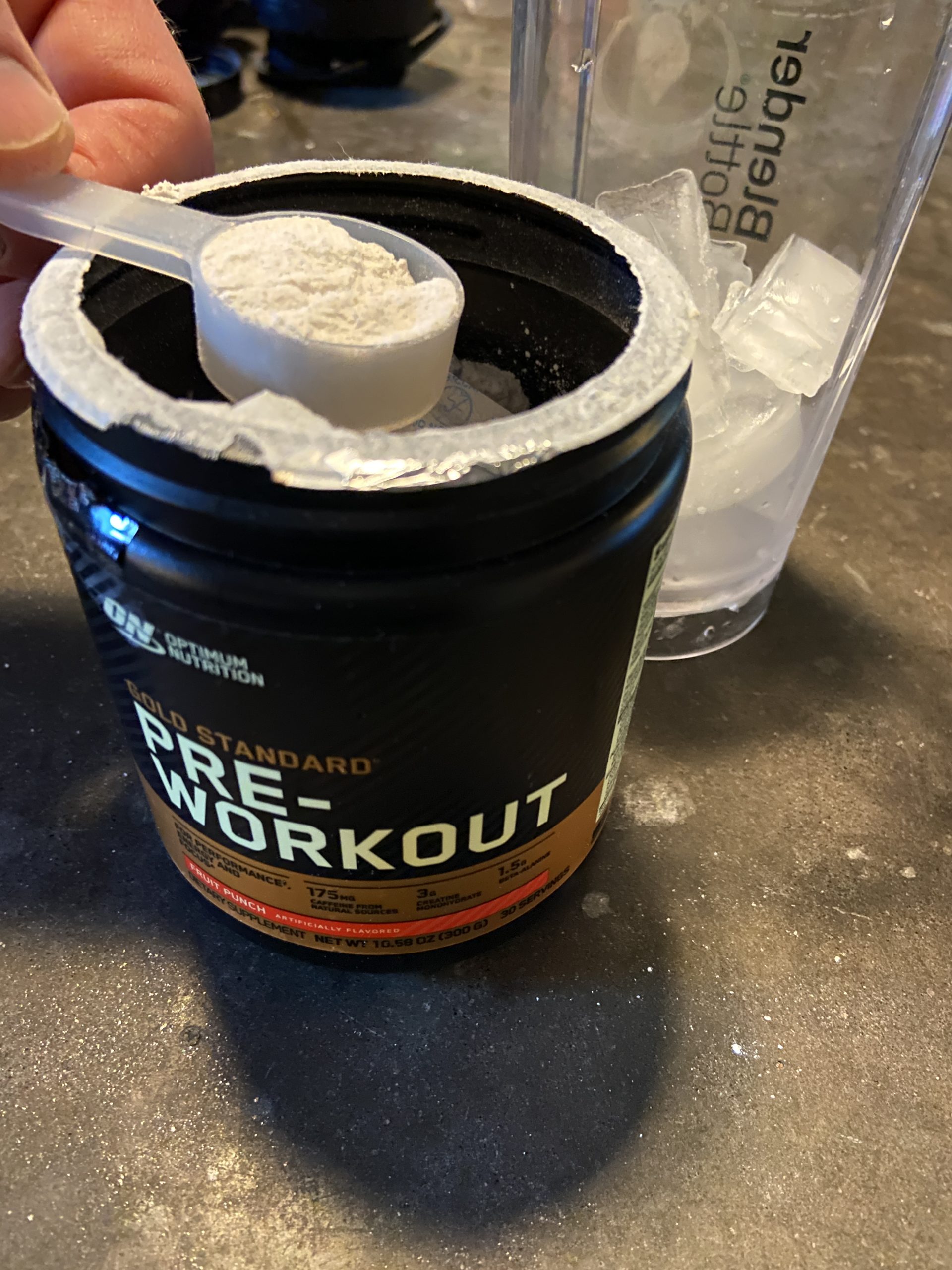 Energy Ingredients in Gold Standard Pre Workout
A lot of pre-workout formulas go hard on the caffeine to give users a huge burst of energy, but too many also leave you crashing before your workout is really over. Instead of blowing your mind with caffeine, Optimum Nutrition's Gold Standard Pre-Workout give you a reasonable dose of caffeine, supported with a whole suite of nootropics, anti-fatigue, and pump ingredients.
Gold Standard's 175mg of caffeine is enough to give you a boost, but without the jitters and crash that an outsized dose can cause. It's about as much as a couple of cups of coffee, so don't worry – it's just a tool in your arsenal, not the whole point like other pre-workouts.
Nootropic (Focus and Mood) Ingredients in Gold Standard Pre Workout
N-Acetyle L-Tyrosine 250 mg
Acetyl-L- Carnitine 375 mg
We all know the importance of mental clarity to a good workout. If you can't focus, you can't perform. That's why we're seeing nootropics pop up in pretty much every legitimate pre-workout supplement formula these days. Nootropics help with memory, focus, cognition, and overall mental acuity.
Gold Standard offers two nootropics, both of which have been seen to improve mental alertness and clear thinking. N-Acetyle L-Tyrosine is an acetylated version of the L-Tyrosine that shows up in many pre-workouts; the acetylation makes it more water-soluble and usable. Acetyl-L-Carnitine is also easier for the body to process and get more of the benefits of carnitine, such as cerebral blood circulation.
Anti-Fatigue Ingredients in Gold Standard Pre Workout
Beta-Alanine shows up in pre-workout supplements often, for good reason – it's one of the key anti-fatigue ingredients, increasing muscle endurance during high-intensity exercise. Of course, beta-alanine also has its detractors, largely because of the notorious "tingling" or, for those who hate it, "skin-crawling" sensation.
Gold Standard Pre Workout has 1.5g of beta-alanine, which isn't necessarily the optimal dose (which is closer to 2.5g), but is enough to have some endurance effects without the tingle. It's a trade-off to get a product that doesn't make your skin crawl, but still helps you push through a tough workout.
Pump and Blood Flow Ingredients in Gold Standard Pre Workout
Micronized L-Citrulline 750 mg
The main ingredients in any good preworkout formula should include L-citrulline. L-Citrulline has a lot of value for increasing blood volume and giving athletes the pump they need to support a heavy workout.
Gold Standard includes Micronized L-Citrulline, but at 750mg, it's way below the standard optimal dosage. A pre-workout for experienced athletes would be expected to have anywhere from 3 to 8g, but less than a single gram is a real let-down.
Strength Support & Body Composition Ingredients in Gold Standard Pre Workout
While the low dose of L-Citrulline is a little disappointing, Gold Standard includes a big 3g dose of creatine for muscle support. While many athletes prefer handling their own creatine separately (and dosing it out all day), we like the convenience of including it in the pre-workout formula to get your workout started off right.
Along with the creatine, Gold Standard adds 25mg of AstraGin, a patented ginseng extract that is frequently used to extend the benefits of different ingredients. AstraGin increased absorption, especially for creatine, so your body can make the most of the supplements you're taking.
Electrolyte Ingredients in Gold Standard Pre Workout
Electrolytes shouldn't be a big deal in a pre-workout formula, but as we said before, we like the convenience of including all the necessities in one product. Most athletes are going to make sure they have their electrolyte support and hydration regardless of what they're using for a pre-workout.
At any rate, Gold Standard offers a very small 20mg dose of sodium along with its other ingredients. Sodium increases blood volume and helps prevent dehydration, but most experts recommend 1500-2000mg for serious athletes working out. 20mg doesn't even make a dent.
The Following added ingredients will help with your gains:
Vitamin D 12.5mcg
Niacin 20mg
Vitamin B6 2mg
Folate 240mcg
Vitamin B12 10mcg
Pantothenic Acid 10mg
Calcium 50mg
Citrus Bioflavonoid Complex 100mg
Many pre-workout formulas stick with just the essential ingredients, but it's helpful to see Gold Standard Pre Workout including a wide variety of vitamins in addition to the usual supplements. Sure, we know vitamins are cheap, but it is an example of Optimum Nutrition going the extra mile to make sure users have all they need from the start.
Taste & Flavors of ON Gold Standard Drink
Optimum Nutrition offers Gold Standard Pre-Workout in four flavors:
Blueberry Lemonade
Fruit Punch
Green Apple
Watermelon
We tried the fruit punch. Our first impression was that the fruit punch flavor is extremely sweet – even a little excessive. It doesn't necessarily taste like fruit punch; it's a little too strong to identify. There's also a very strong chemical aftertaste from sucralose.
Who Gold Standard is For
Gold Standard appears to be intended for less knowledgeable athletes who are working to up their game and want a solid all-around product.
Who Gold Standard is Not For
Gold Standard may not be for serious, hard-core weight lifters or high-intensity athletes who need a stronger product.
Potential Side Effects of Gold Standard
– Unlikely unless you are unusually sensitive to caffeine
Final Verdict
Optimum Nutrition Gold Standard Pre-Workout is a solid product that may be more oriented toward beginners than experienced athletes, due to a low dose of caffeine and beta-alanine.
Related:
The Top 10 Best Pre-Workouts on Amazon
The 20 Best Pre-Workout Supplements With Nootropic Brain Enhancing Ingredients
---
Related Brainz Content: